Hissar
3 October, 2008, 05:21 pm in "Tajikistan"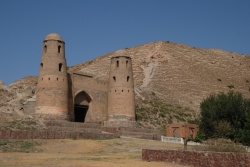 About ˝ hour from Dushanbe is the town of Hissar. It feels like a completely different world—instead of Russian buildings and wide streets, it is a small busy town where men wear traditional clothing and the remains of 16th-18th century structures.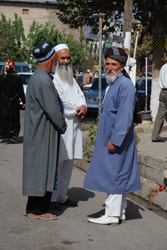 Hisar men in traditional clothing
The historic part of town has the ruins of a fortress—now just some large piles of dried mud and a reconstructed gate--, a couple medressas, the ruins of a caravansaray and baths, and a mausoleum. From the mud wall, we had a view of the medressas and a man threshing his wheat. Most of the cars drove around it but occasionally one would go through the piles of hay. Then the man would sweep the hay back into a pile for the next car.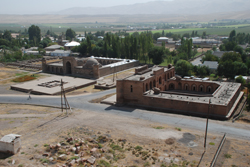 View of the medressas, and ruins of the caravansaray and baths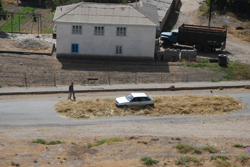 Using cars to thresh wheat
The Medressa-i-Nau was locked but had some pretty carvings on the doors. The Medressa-i-Khuna from the 16th century has an ethnographic/historic museum with exhibits in some of the cells of pottery, handcrafts, and other items.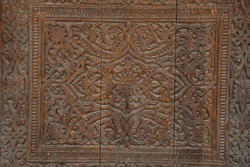 Carving from Medressa-i-Nau