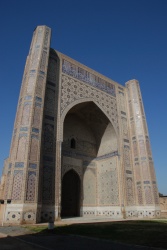 The Bibi Khanem Mosque has gone through some restoration on the exterior but the interior of the structure is mostly unrestored, falling into ruin. However, there is something rewarding about deciphering the faint remnants of patterns on the crumbling frescoed walls.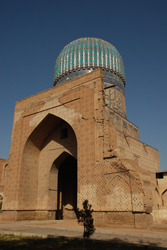 Bibi Khanym mosque ruins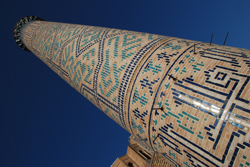 Bibi Khanym column
The exterior tile-work, of course, wasn't as amazing as in the Registan but it was pretty with lines of flowers and snowflakes. The mosque in the interior had 2 interesting 5 sided pillars decorated with panels of tile work. In the center of the courtyard is a giant marble Koran stand surrounded by souvenir salespeople.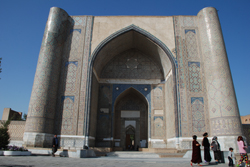 Bibi Khanym mosque entrance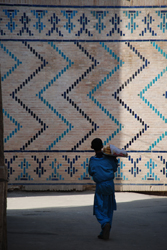 Pastry delivery boy outside the walls of Bibi Khanym
The Guri Amir Mausoleum's dome rises above the part of town between the Registan and the Russian part of town. It is turquoise and decorated with blue tile patterns. Inside the tomb room is decorated with blue and gold relief work and painted decoration in a Baroque like over abundance of decoration.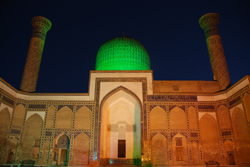 Guri Amir Mausoleum at night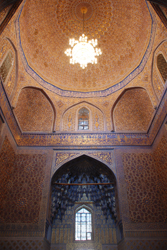 Guri Amir mausoleum
The tombstones are simple and serene-- blocks of carved marble and jade. The most exquisite is the carved light green jade stone of Muhammad Sulton (1374-1403). Amir Timur's tomb (1336-1405) is black. I couldn't tell if it was stone or ebony wood. The lower part of the mausoleum's interior is also decorated with beautiful carved jade and marble. The room echoes like a cathedral and is crowned by a crystal chandelier. The light from outside filters in through ornate grates.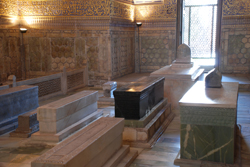 Tombs in Guri Amir mausoleum
In front of Guri Amir is the Rukhobod Mausoleum. There is an old medressa filled with souvenir shops. The mausoleum was built in 1380.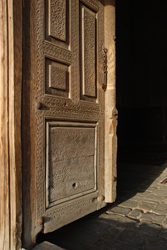 Door of Rukhobod Mausoleum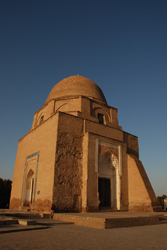 Rukhobod Mausoleum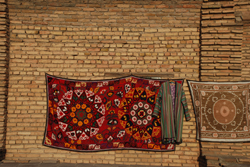 Souvenirs for sale
Uzbek Food in Samarkand
I should mention something about Uzbek food. Most of the restaurants/chaihanes have the standard Central Asian fare: laghman (noodles w/ meat), soup (with meat), shashlik (meat kebabs), manti (meat stuffed raviolis), plov (rice pilaf). So far we've had plov for lunch everyday we've been here but I don't mind because I like it. Here, (I don't know if this is seasonal) they make it with squash, onions, chickpeas, and sometimes raisins or peppers and just a few chunks of meat. It's a bit oily but tasty. We usually find it for lunch being made in big metal cauldrons over gas flames. It is prepared separately in the pot: rice, vegetables, and meat but served together. Usually people order a salad of tomatoes and cucumbers with it. On the street there are a lot of piroshki (fried dough stuffed with meat) and samsas (baked dough stuffed with meat) for sale. Here at the B&B, they serve a squash and onion samsa for breakfast every morning (except when there was no gas). For dinner, we usually buy a loaf of hot Samarkand bread, shiny with egg, heavy though small, with sprinkles of black sesame seeds. Rowshan has always been able to find a hot loaf. It is as if they are constantly baking them and they are bought up before they get cold. This we eat with cheese, tomatoes, and cucumbers (and NO MEAT!!!!).

It looks like the people of Samarkand have a sweet tooth. There are lots of cakes and cookies for sale. I also found fudge in some stores.