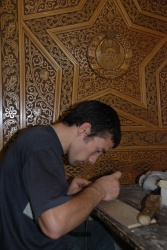 The Abulkasim Medressa, unlike the medressas in Samarkand, had craftsmen working: wood carvers, miniature painters, etc. I was glad to finally see people carving wood since I've seen so many beautiful examples around Central Asia. The guys we watched seemed young and were working on small pieces but there were plans rendered in water color on the walls for chaihanes and columns.
The museum of Applied Arts is in a house which once belonged to a Russian diplomat, A. Polovtsov who collected Uzbek applied art. The house was built in the late 19th century and the interior and exterior patio is covered with ornate plaster (ganch) carvings, and detailed paintings. The ceilings were splendid and dripped with color and a jungle of floral designs and filigree.
Every space of the wall was covered with either ganch or tilework. There were ganch filigree niches which housed ceramics and a ganch chandelier from the ceiling. Even the fireplace/stove was covered with ganch. A smaller room had wall paintings with scenes of a potter and others.
The museum had rooms (many had been added on to the original house later) with ceramics, suzani, instruments, ikat, embroidery in gold, jewelry, wood carvings, metalwork and miniatures. The exhibits were interspersed between shops but at least the people working in them weren't pushy as in other places we've been. Everything was full of decoration. The exciting thing is these pieces weren't antiques but part of a tradition that is still very much alive. You can still find beautiful woven silks and detailed suzani. They are not only for past royalty as pieces you often see in museums.
Uzbek Dance Performance
The "must do" activity in Tashkent is going to the Opera or Ballet since tickets are incredibly cheap. When we went to the theatre to get tickets, we saw there was a performance of traditional Uzbek and world dance by the National Dance Ensemble Sabo. We got tickets to that instead. The interior of the Alisher Navoi Opera and Ballet Theatre is beautiful with paintings and traditional decoration. The performance started out very professionally with a whimsical colorful set utilizing ethnic pattern and design and theatrical dance. The first half was a selection of Uzbek dances featuring elegant arm and hand movements and positions. Some dances seemed more folky and playful others graceful and elegant. In a piece called Lagan, the dancer balanced a plate on various parts of body and spun it, somehow managing to spin it back up his body after spinning it down.
The dance of the peacocks started out the 2nd half. The movement seemed based on Uzbek dance but the music sounded Chinese and the dance was reminiscent of some Chinese animal dances. The dancers mimicked peacocks with head movements and a fanable tail piece to their dresses.
From there the performance went into a variety of mediocre performances of world dances and an awful "show group" of gold lame clad singers/dancers singing bad pop songs. Oh well. At least the first half contained beautiful skilled dancing.