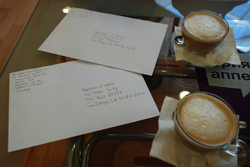 Our ballots, ready to be sent
We voted today and when you think about it, it took a lot of work.
July--Istanbul, Turkey:
I started investigating how we could vote. The main problem was that since we were traveling, we didn't have an address, the ballot could be sent to. I asked at the US consulate if the ballot could be sent to the embassy in Uzbekistan but they said no. I started searching on-line and found the Overseas Vote Foundation and contacted them. They responded to register for an absentee ballot, leave forwarding
addresses, and if we didn't receive our ballot in time, use the emergency on-line write-in ballot.
September--Osh, Kyrgyzstan:
We decided it was time to register. After visiting about 5 different Internet places, we finally found one that was fast enough to use the Low-Bandwith version of the Overseas Vote Foundation site, would allow us to print, and had Acrobat reader. We managed to print out the registration form but then learned it had to be mailed.
Mid-September—Dushanbe, Tajikistan:
We wanted to mail the registration forms from a major city. The first major city we reached was Dushanbe. Lonely Planet describes Tajikistan's postal service as "...a bit ropey and it's not uncommon for mail to take a month or more to reach its destination." We hoped that mailing something from the capital would have better results. We paid extra to have it certified and the postal worker told us it would take 2 weeks and put numerous official labels on it.
Mid-October—Tashkent,Uzbekistan:
The registrar confirmed that our ballots had been sent to Turkey but unfortunately they didn't reach us in Uzbekistan. It was time to fill out the on-line emergency write in ballot. This time we managed to find a wireless connection so we were able to fill out the ballots on our computer. However, we still had to find a place that could print them. Knowing that many internet places here for some bizarre reason don't have Adobe Acrobat Reader (it's FREE!!!) and don't let people download and install new software on their computers, we converted the ballot Acrobat form to a jpg image so we would have more of a chance to print it out. We printed it out and then went to look for an express mail service to send it. The only place we found was DHL and they charged $60. We decided we didn't care about voting THAT much so we looked for other options. Fortunately, the US Embassy in Tashkent sent out an e-mail informing us that we could mail the ballots free through them. Since it was already to late to get to the Embassy, we decided to go the next day.
In the morning, we left the hotel to go to find the embassy, thinking we'd grab envelopes on the way. We didn't see any in the bazaar and couldn't find single envelopes in the department store. We went to another part of town and tried a book/stationary store we'd seen but they didn't have any. Finally someone directed us to the TSUM (Central Shopping Center) where we found envelopes. It had taken 2 hours. The embassy was out of the center and took us an hour to get there. The embassy is a fortress. The embassy had been bombed at some point so they did have a legitimate reason to be nervous. As we approached, a guard looked at us with some kind of special binoculars (probably to detect if we had weapons or explosives). After talking to us through an intercom, they nervously let me in. Rowshan kept my bag and stayed outside, making the guards inside even more nervous. I sent my money belt through the x-ray machine and then assured them I had neither weapons nor chewing gum (!!!) They let me walk through the metal detector and pointed me towards the consular services section. Once there I had to fill out a special outside envelope and seal the ballots and cover forms inside. 15 minutes later we were done. It took us another hour to get back to the center (though this was partly because we were directed to the wrong bus.) That is how we voted. It was a lot of effort and time especially since we are registered in California which is not a swing state. However, it was Rowshan's first presidential election and I'd been kicking myself for not voting in the 2000 election. Anyway, I've said before if you don't vote, you have no right to complain about the outcome and I did quite a lot of complaining (definitely a lot more than the time it took us to vote this election) after the outcome of the 2000 election.
I'm writing this last part after the election. Both Rowshan and I overjoyed that Obama won. If anyone asks in the future we can reply, "We voted for Obama even though we were traveling at the time and had no address" instead of "Uh...well... we were for Obama but didn't vote."