Bukhara is a great place to wander because there are so many old beautiful buildings that lurk down seemingly ordinary streets. Last night we stumbled upon the Domullo Tursunjon Medressa. Not faced with impressive tilework and containing a few ordinary shops, like bike repair, it is probably largely ignored. After all, it dates only from the late 18th century. Still it was a nicely shaped building with a narrow decorative line of green tile up the sides of the entrance. The old center contains several little covered bazaars which serve as intersections between the main pedestrian roads. These, of course, are full of souvenir sellers but at least they were built to hold salespeople.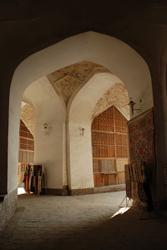 Covered bazaar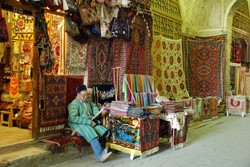 Souvenir salesman in Taqi-Zargaron bazaar
Yesterday I didn't really do much but felt really happy to be in Bukhara. Time...It was great to have the day to myself to just do ordinary things-- go to the bazaar for food shopping, browse through items in shops, make an attempt at sketching, work on an article. I think we've spent so much time lately being tourists it is good to take a break and not have to think, "I have to go here and then there." It's good to be able to just wander, get lost, and let fortune present what it presents.

Today Rowshan had a day off from ceramics so we did some site seeing and were soon burnt out on souvenir sellers. The Ark's coronation room had its walls covered with suzanis. The women working in the museums all had necklaces or bracelets draped in strategic places among the exhibits. The museum exhibits all are becoming a blur-- ceramics shards, metal work, nature dioramas.... Sometimes I have to remind myself to look beyond the exhibit to the carved or painted ceilings and ornate columns. But courtyards were draped with souvenirs and the weather was a bit cloudy so the view from them wasn't photogenic.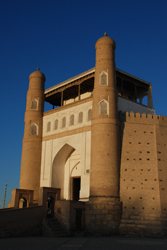 Entrance to the Ark
As we finished the exhibits and took a walk by the chaihane, wondering how such a huge walled area could hold so little, I noticed a rusty metal door. Beyond its gaps I could see the blue domes of the Kalon mosque and Mirarab medressa. We opened the door and followed a path across the ruins of the arc. There was a trash pile and some places where it looked like excavations were taking place, but no one was there. Across the ruins we came to the top of a wall looking towards the old town over domes and bazaars.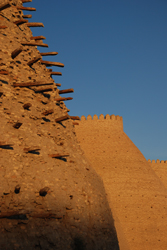 Ark walls and un-restored tower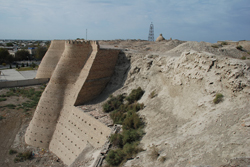 Walls and un-excavated part of the Ark
We stopped at the Bolo Hauz mosque then had tea at a chaihane across from it. The Abdullah Khan Medressa had someone collecting an entrance fee so we passed on it. The Modori Khan Medressa had a few shops, mostly closed.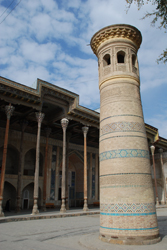 Bolo Hauz mosque and minaret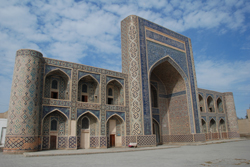 Abdullah Khan Medressa
Then we visited the Ismail Samani Mausoleum. It was finished in 905 but is in incredibly good condition even though it has barely been restored. We were interrupted by someone trying to charge us for taking photos from within 50 meters of it. He was carrying some "official" papers in a binder and no tickets. Rowshan asked in Farsi, "Who are you?" He replied, "a cashier". Rowshan said, "Where's your ID card?" and he answered, "I left it at home." (That was a bluff on Rowshan's part because we had no idea if cashiers were supposed to carry ID cards). By this time he said, "OK you can take photos for free." Rowshan responded, "How can you have the nerve to charge me to see something my ancestors built." The man replied, "I didn't know you were from Iran." Then he skulked off back towards the nearby tea house. Beyond that was the Chasma-Ayub Mausoleum.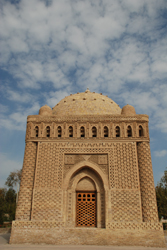 Ismail Samani Mausoleum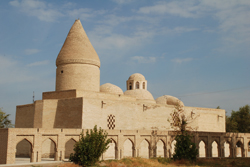 Chashma-Ayub Mausoleum
We managed to climb the Kalon Mosque in time for sunset. We waited but clouds were covering the sun making the top of the minaret chilly. Finally, as the sun was setting, the clouds cleared and the city was covered in golden light.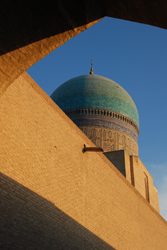 Dome of Kalon Mosque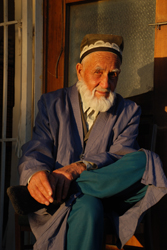 Man by the Kalon Mosque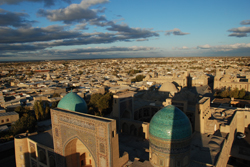 View from the Kalon minaret of Mir-i-Arab Medressa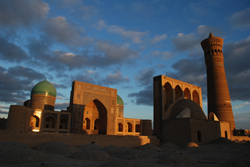 Kalon minaret from the Kalon mosque roof