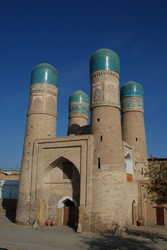 Chahar Minar
Rowshan and I walked to Chahar Minar today. It is almost hidden among small streets and houses. Back in the center we came upon another medressa and a small minaret. In the same square was a caravansaray with a poster advertising a photo gallery. We went in and it turned out the photographer was from Iran and had lot of black and white photos as well as rich color photos of people in Uzbekistan including gypsies and some scenes. Rowshan enjoyed talking photography with a professional. The photographer,
Shavkat Boltaev
, had also been involved with the production of a movie Rowshan and I had seen in San Diego called The Keeper, about Omar Khayam. The singer everyone thinks Rowshan resembles, Andy, played a role in the film.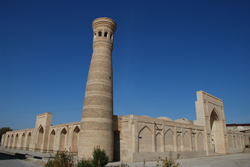 Medressa and little minaret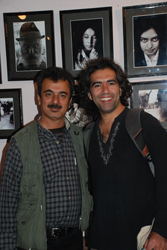 Rowshan and photographer Shavkat Boltaev
Buyar Khuli Khan Mausoleum On a gray and rainy this morning, we walked East to find the Saifuddin Bukharzi Mausoleum and the Buyar Khuli Khan Mausoleum. The Khan's mausoleum had some beautiful turquoise glazed ceramic work, though a lot was broken. The mosque was a newer building. The mausoleum was being worked on.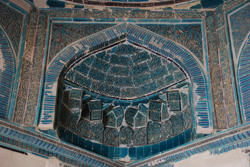 Ceramic work in Buyan Khuli Khan Mausoleum
The Last Emir's Palace: Sitorai Mohi Hosa. The palace was from the late 19th and early 20th century and was interesting not for its beauty but the strange merging of Russian and Islamic/Central Asian aesthetics. There were touches of Art Nouveau in the flowers and stained glass. The combination was often rather tacky but it was a change from the classic Islamic architecture and design we've been looking at. There was one room that was extremely beautiful. It was called the white room and the walls were covered with so much ganch work it looked like the walls were made of lace.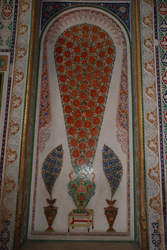 Paintings inside Last Emir's Palace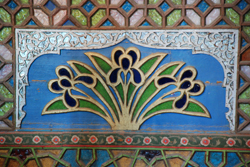 Stained glass in Last Emir's Palace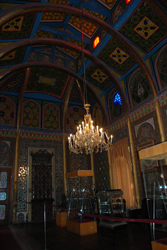 Room inside Last Emir's Palace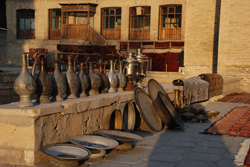 Metalwork outside by Last Emir's Palace