Inside the Haram-e-Rezavi
Today I donned my blue chador with white flowers ($3- cheapest we could find) and we went to the Haram-e-Rezavi. I was doing my best not to look like a foreigner because for some reason, foreigners always look like foreigners even when completely covered by a chador. However, it is incredibly awkward to walk around wrapped in a sheet, trying to keep it from pulling ones headscarf backwards and revealing—GASP!--hair!
We entered into the Razavi Grand Courtyard which is under construction. Even though it is in the process of being built, its large sloppily thrown together brick walls and panels of bright colored but shoddy tile work makes it look like it is in the state of falling apart.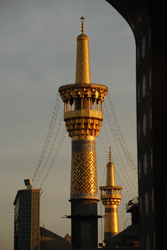 Minarets of the Haram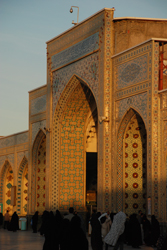 Entrance to the Harem
From there we walked into the Qods courtyard. We didn't bring a map so we planned on just wandering around. From there we saw a mosque entrance. Rowshan went in the men's side and I went in the women's side. I was surprised to see men there as well and that the area where a few people were praying wasn't segregated. The passage went through to a different courtyard and wasn't really an entrance into the main building. I went back out to the courtyard but there was no sign of Rowshan. I looked through the men's entrance and saw it led to a different courtyard directly across from where I was. I went through a passage to the side to try to walk around back. From there I ended up in the Jomhuri Courtyard. The quickest way to get to the courtyard behind seemed through a mosque which I supposed was the one Rowshan got into through the men's entrance.

I took off my shoes and joined the people walking in. Here things started getting really crowded. Everywhere there were chador clad women, reading the Koran, sitting, praying or walking through. I walked on and it got more and more crowded. There was a bit of a frenzied feeling in the air. I looked over to the men's side which was also crowded but didn't see Rowshan. The crowd got bigger and a bit pushier. There were women crying. Then I saw that I had bumbled into the inner sanctuary of the holy shrine, and had reached the zarih, the cage structure with a silver ornate jeweled top which housed the tomb of Reza, one of the holiest Islamic pilgrimage sites. Women were tearfully pushing towards the shrine. I made for the door. Non-Moslems are not allowed even into the courtyards surrounding the shrine and definitely not into it. I am technically a Moslem since I converted so our marriage would be considered legit in Iran. However, I'd be hard pressed to prove it since I speak almost no Farsi, don't know any Arabic prayers and don't know how to pray.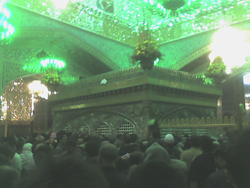 The zarih and Reza's tomb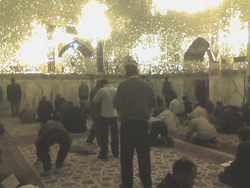 Men praying near the tomb
The only brush I had with authority was a mollah who noticed my hair sticking out and made a disapproving noise at which a feather duster woman (for some reason all the employees in the Haram carry colorful feather dusters) reprimanded me for having my hair showing. I pulled my scarf forward and my chador so it draped even farther over my face. I noticed a feather duster woman telling another woman to not hold her chador up so high to which she responded "Pardon" and let it drop to the ground.

I emerged into another ornate courtyard, the Azadi Courtyard, looked around quickly and not seeing Rowshan went back into the shrine and found a passage out to the back courtyard, the Engelab courtyard.

These inner courtyards are older and more attractive than the outer courtyards with lots of ornate tile work, mirrors, and gold. However, since you are supposed to be praying inside, I didn't feel comfortable really studying the designs. I decided to go back to the first courtyard because that was where Rowshan would look for me. Not wanting to push through the crowded shrine, I went back to the outer courtyard to try to walk to where we'd started. I was feeling very disoriented and kept peeking through arches to see if I recognized anything. Eventually I saw the yellow light posts near where we had entered and managed to get back to the Qods courtyard where I found a bench and waited with my chador pulled close feeling like a lost kid in a ghost costume.

Fortunately Rowshan showed up. He told me we hadn't needed to separate in the first place because, belatedly, he noticed a sign saying that the entrance I went through was a family entrance. This explained the presence of both men and women.

I said, "Enough of mosques. Lets go see the museum."

The museum was full of school groups. There were artifacts, old zarihs from the shrine, gold panels with Imam Reza's name and other religious items. Upstairs were some galleries of shells, astronomical equipment (including some nice astrolabs), paintings, and more interestingly some beautiful contemporary miniatures including a fabulous one of swirling birds and fish called, "The 5th day of creation." There were some ceramics, a model of the Haram. The museum was decent but crowded and loud.

We went back to the inner courtyards for a better look. Rowshan took photos with the cell phone. Cameras aren't allowed but everyone takes photos with their cell phones.

The camera ban has created a whole industry of photo studios which superimpose photos of people onto scenes of the interior of the Haram using Photoshop. All the streets going up to the Haram are filled with shops displaying bright colored framed options: Do you want a giant moonrise over the Haram? Your face fading into a purple sky? Everything is possible.