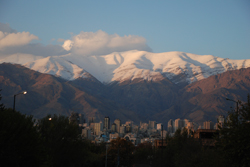 Alborz mountain from Parke Jahane Koodak
Rowshan's mom was waiting for us when we arrived at the Tehran train station. We thought his parents would meet us at the house but Rowshan's mom said she couldn't wait so she took a taxi to the station.
We were only in the house a few minutes when Rowshan's father casually mentioned Obama had won. We had been hoping to hear news about the election but Iran seemed the one place in the world that people don't really care. However, Rowshan's parents, especially his mother, had been rooting for Obama. We found the English version of Al Jazeera. It was great to see how people in DC partied in the streets. They also showed celebrations in Kenya, where today is a national holiday for Obama's victory. Indonesia and Hawaii also had celebrations. Leaders and people all over the world were rejoicing and it was as if a light of optimism began shining through the dark days of war and economic crisis. It is as if the whole world is gaining positive energy.