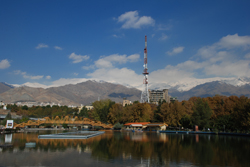 Parke Mellat
While we were walking with Rowshan's parents in a park the other day, we heard the sound of a drum and singing. We approached and saw a crowd gathered around applauding. Some women were in the center. One was playing a daf. The others were singing and encouraging the audience to join in. They were singing (in Farsi) "If you're happy and you know it clap your hands." Many of the people in the crowd were children. After that song they began one that went something like "I made this shape, you can do it too." Where they did different positions with their arms and everyone followed. They ended with a hug telling everyone to hug someone they love. All the parents and children hugged each other.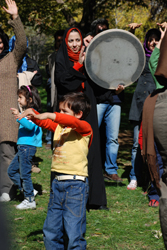 performance in Parke Mellat
It was very sweet. After the performance Rowshan's mom talked a little with the women. Every week they go to a different park and perform their program with the goal of making people happy.

Today Rowshan and I went to the Indian Embassy and realized we could only get a visa (w/ Iranian passport) for 1 month if we had a round trip ticket. Getting one with a US passport was extremely difficult since the Indian Embassy checks with applicant's embassy and there is no US Embassy in Iran. The Indian embassy was terribly crowded, not very helpful, and pissed Rowshan off. So we quickly started trying to figure out other options. In the end, we went to a travel agent and reserved a ticket to Kathmandu, Nepal via Sharjah in the UAE.