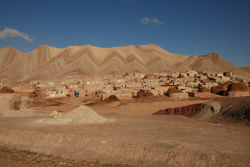 Village off the highway
The road to Tabriz started out like a California highway, past dry hills and industrial buildings. I actually dozed off a bit telling Rowshan to wake me up when the road got interesting. Eventually, he woke me as we started going through a flat plain with small snowcapped mountains. The land became a painted landscape of wind-carved hills with ripples and stripes of yellow and red, and textures ranging from frosting peaks to curved hills.
One spot we stopped at for a moment revealed a mud walled village between a range of hills with zig-zagged stripes of red. The colors of the buildings reflected the earth around: one reddish, one beige, one darker gray. The highway went right by the town but had no direct route from the highway to the town, even farther down when there was a road, it seemed to go elsewhere. The highway is only a few years old and has no chaihanes, gas stations, or restaurants, or other services along it. It seemed like a good commercial prospect for someone in the village to set up a roadside cafe. However, I guess this was hard when there was no easy way for a car to get to the village. On the roofs of the houses, there were piles of hay, sometimes as big as the house. Piles of dried manure, fuel for the winter, were stacked outside.
We were going to have a picnic lunch by a lake not far from Tabriz but when we got there it had all been fenced off. The weather was also bitterly cold.
Later we learned the only way to get to the lake was to pay to be let through a gate. Rowshan said his family used to picnic there when they went they went to Tabriz. However, the last time he'd been to the lake was 30 years ago. The last time he'd been in Tabriz was for Behzad's wedding 14 years ago. Rowshan's dad seemed to get more excited and happy as we approached saying in English, "I like Tabriz very much." The main reason we were visiting Tabriz is most of Rowshan's family lives there and I hadn't met them yet.