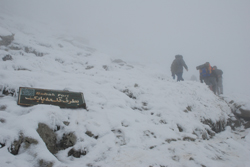 Where is the Fortress?
Rowshan, his father, several cousins and I headed to Kale Babak (Babak's Fortress) early in the morning. It was a drive of several hours through a landscape covered in fog. Through the fog we could see really green hills dotted with rock outcroppings reminiscent of Ireland, along with forests of autumn colored trees casting shadows of gold against the gray. At one point a gray fox with a long tail touched with orange darted across the road then stared at us before disappearing into the fog and fields.
The fortress is in the mountains above a small town but all the mountains were so fogged in we couldn't see anything. We climbed into the mountains and the fog became thicker. At the turn off to the trail head we had to stop and have Murat run up to check if the road was passable. There was a layer of snow and all the plants were covered with ice formations which stretched from the leaves and branches parallel to the ground rather than the more common vertical perpendicular icicles.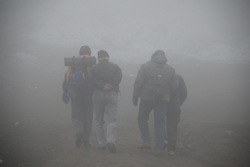 Hiking through the fog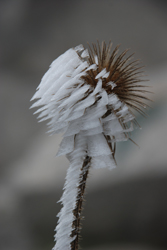 Interesting ice formations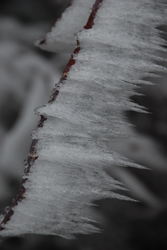 Ice formations on a branch
We pulled into the parking area and were surprised to see a tour bus pulling out. Perhaps they were staying in the hotel which, if it wasn't for the fog, probably had a very nice view. There were a couple other groups of people hiking as well but they had disappeared up the trail in to the fog before we even started. The first part of the trail was a long stairway occasionally divided around clumps of ice covered trees.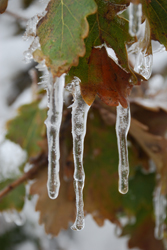 Icicles
Rowshan's family are a cheerful bunch and occasionally would break out in Azeri folk songs and snippets from operas. At the top of the stairs, we walked along a flat area following a line of electric poles. To our left was a forest of ice covered trees. Surrounding us-- fog fog fog.

We joined a narrow path which was a combination of snow and mud. Then one of Rowshan's relatives insisted we needed to climb up. Up and up we went but could not find any fortress. What through the fog looked like a fortress' ruins turned out to be an outcropping of rocks. We settled down for a tea break with bread and fruit. I was surprised to bump my leg against a snow covered cactus. Once again more songs were sung and a bit of dancing occurred. Deciding it was unwise to wander the mountains side in the fog searching for a fortress which no one knew where it was, we headed back down the hill. Then we heard voices through the fog. We called to them and they told us to come down since they were on the right path.

The correct path was big, well used, and obvious. If we had kept to our original path we would have probably run into it. However we had actually made a mistake earlier when instead of sticking by the electric poles, we had walked closer to the ice forest. The men on the trail told us the fortress was about an hour up. Though thankfully it was a trail, it still was icy, muddy, rocky and sometimes just covered with snow. My new boots performed admirably and kept me from slipping even when I tried to.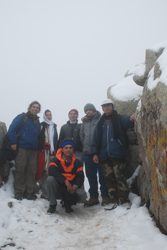 Almost at the fortress
Finally we saw what looked like a wall bu was actually stairs to the fortress. Up the stairs we found big rocks. We followed the stairs down and they wound behind the rocks once more becoming icy. We finally came to the ruins of the gate house. Then some of us walked further and up more stairs to the fortress. From the stairs we could just see big rocks but once we got to the top, the fortress, quite a large structure, appeared through the fog like a ghost ship. It had most likely been reconstructed. Still, it was imposing and a lot nicer than piles of mud or a few small remains of walls. From the highest wall, which probably reveals an incredible view when it is clear, we looked down on a mystery of fog.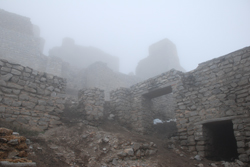 Inside the fortress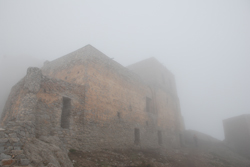 The fortress