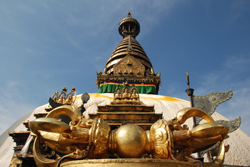 Swayambhunath Stupa
It was a smoggy day-- not the best time to visit the Swayambhunath Temple, with its 360 degree view over Kathmandu Valley--but I'm guessing crystal clear days are a rarity here. One must make the best of what one's got. From Thamel, we walked along a wide dusty road to the river. We glanced at the Hindu Indrani Temple on the shore then crossed the bridge, watching pigs rooting around the shore and wading in the stagnant river (it was very shallow).
We climbed some steps and came to the Bijeshwari Temple. As we approached, since we passed some statues of Hindu gods, I thought it was a Hindu temple. But at the entrance I saw paintings of Tibetan Buddhist images. Inside there were little stupas with Buddha images, yet the pagoda tower seemed to be decorated with painted Hindu carvings. I guess the 2 religions really have blended a lot.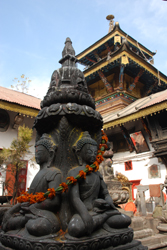 Inside the Bijeshwari Temple
Beyond the temple, we passed souvenir stores, prayer bead makers and some cafes so we knew we were going in the right direction. We reached the base of the steps to Swayambhunath.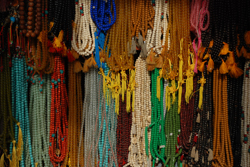 Prayer beads
The entrance has a painted arch and beyond are sculptures of Buddhas. But far more noticeable are the armies of monkeys who scamper up the steps, rest on the statues and treat the area as if it had been built as a giant playground for them.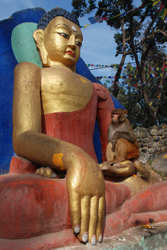 Buddha and monkey subduing Mara (Calling the Earth to witness)
Mother monkeys carried their babies clinging to their fronts or backs. Larger males strutted and all seemed to be having a great time. Along the stairs were statues and piles of stones with words-- perhaps prayers-- carved on them. Souvenir sellers, a fortune teller, and beggars also were hanging out on the steps.

Soon we reached the top and found ourselves looking up at the huge white stupa with its gold tower decorated with fabric and the big painted eyes of Buddha. There is a legend that the Kathmandu valley was once a lake and the hill the hill where Swayambhunath sits arose from the lake. (LP)

The complex contains a series of temples and stuppas as well as view points of the valley below. The first thing that struck me was how crowded it was: groups of tourists snapped photos, monks in maroon and gold wandered through saying prayers, school children eagerly spun prayer wheels, women in colorful saris shoved offerings of fruit and vegetables through the metal grates of the Buddha shrines and poor children followed behind climbing up the shrines and reaching through the grates to pull out the offerings.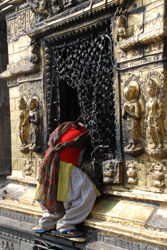 Child grabbing food offering
If the kids didn't get to them first, the monkeys did. Some monkeys sat in front of the shrines receiving offerings of rice thrown by a devotee. Men sat with complex arrangements of candles and offerings performing prayer ceremonies. Women with brooms swept up what wasn't consumed by monkeys, children or flocks of pigeons. Stray dogs lounged in the sun and children with dirty clothes but marks of blessings on their foreheads played with the puppies.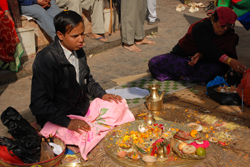 Priest conducting prayer ceremony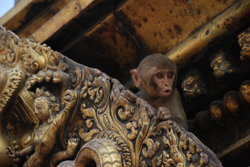 Monkey waiting for offerings
There were rows of fragrant candles burning and the smell of incense. It was a very un-sterile mess of life. However, it was fascinating to see this eco-system develop around the temple. Instead of being a quiet sterile edifice devoted to silence and spirituality, it was a boisterous, sense-exhausting place devoted to life in whatever form it took.

The animal, bird, and Buddha sculptures as well as stupas served as perches for pigeons and monkeys. Looking over the smog covered city, huge eagles circled waiting for an opportune moment to make a meal of a baby monkey.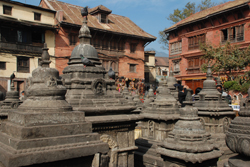 Pigeons on stupas
In front of one Hindu looking shrine was a foam rubber mat. A monk stopped and picked up the puppies who had been resting there and gently cuddled them speaking to them softly.

In contrast to the chaos outside, the Dongale Chhyoling monastary was peaceful and serene. A robed monk and another man chanted. Along one wall was a table full of candles. Another monk spun a big prayer wheel before sitting on a bench to listen. Gold Buddhas watched from behind protective glass. The ceiling and walls had colorful painted designs.