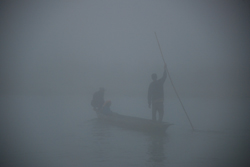 Canoe in the fog
The morning was cloaked in a thick fog which, though beautiful, was by no means silent. As we sat waiting for breakfast, group after group of tourists came down to the beach to board one of the fleet of wooden canoes docked there. By the time the fog cleared, most of the tourists had cleared out as well.
We went with our guide, Ousa, and 2 other Americans, Steve and Ann, who we met yesterday going to the Elephant Breeding Center. We boarded a couple canoes fastened together. There was one poleman in the back. He turned the boats and we drifted down the river. The sun burned away the fog revealing lots of birds: Ruddy shell ducks-- migrating birds from Russia and Tibet waded close to the shore or flew across the river in pairs; egrets stood with necks shot forward looking for fish; kingfishers flew by or perched in trees. A big stork stood on the shore and many other birds flew by.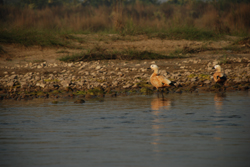 Ruddy shell ducks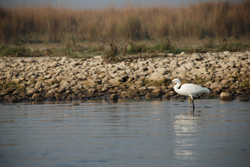 Egret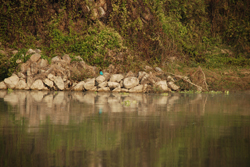 Kingfisher
We were let off down the river a bit and our boatman then had the hard job of walking, kicking and poling the boat back upstream. We headed into the jungle.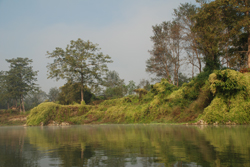 The river bank
There didn't seem to be a set path from point A to B but rather a series of winding trails, some from people, some from animals. We saw lots of signs of
animals--piles of rhino dung, deer footprints, and holes dug by bears-- but no animals. There were lots of big red bugs. Ousa assured us they would not bite and were not poisonous-- quite a relief since they were everywhere.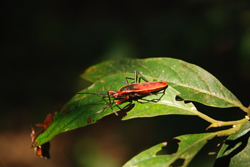 Red bugs
We did see several hornbills with bright yellow bills. Every now and then we'd come to the edge of the savanna and peek out seeking wildlife. But, we didn't see anything. Ousa said right now the grass was too long. After the grass was harvested, and some of the areas burned, it was easier to see the animals.

We wandered around the forest, occasionally crossed grasslands and settled on a path by a rivulet looking for crocodiles. Ousa took us to some typical crocodiles sunbathing places but we didn't see any. Finally we glimpsed the head of one looking like a log, before it disappeared under water.

We wandered some more and at some point I brushed against a plant which caused about 3 square inches of my arm to become covered with little red bumps which swelled up until they merged into one itchy puffy patch. Thankfully, they shrunk down after a while to small red dots. As we ducked around branches, and my arm itched and burned, I brushed off an ant and remembered I'm not very fond of jungles.

At one place, Rowshan saw a movement in the bushes. We quietly approached the area and saw.... a chicken. Technically it was a wild jungle fowl but it looked like a small rooster with lovely green and red feathers.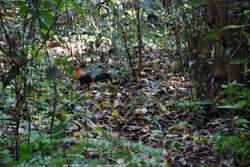 Wild chicken
Finally, we saw a monkey in a tree. It wasn't like seeing a rhino or tiger, but it was refreshing to at least see a monkey in the wild. In another tree was saw a big monkey who sat sending a shower of pee from the tree and then took a dump. Steve wryly remarked, "We've seen so much animal poo it is nice to see it actually being created."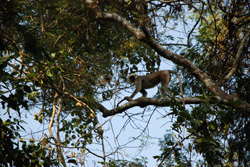 Monkey See, Monkey Poo
From a viewing tower, we saw how an invasive South African plant had taken over the savanna transforming clumps of grass and trees into vine covered topiary sculptures. Another part of the savanna was slowly burning.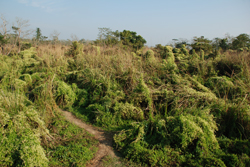 Invasive South African plant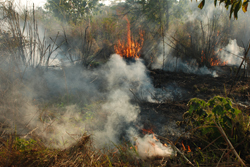 Savanna being burned
We walked back out and were on the river bank a little ways up river from the hotel. Ruddy shell ducks flew above the water. A canoe took us across the river back to the hotel.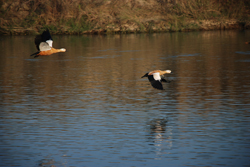 Ruddy shell ducks
Tonight there was a Tharu cultural performance of the stick dance. The bamboo stick dances involved groups of dancers in different formations doing dance steps and swinging bamboo sticks so they would hit other dancers' sticks. If a dancer was off it would mean someone could get whacked with a bamboo stick. There was also an excellent firedance. The dances were accompanied by a drum, which along with the costumes made me think of Bhangra music.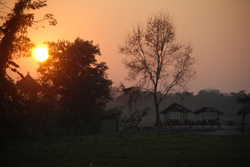 Sunset by the hotel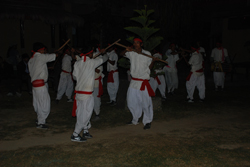 Tharu stick dance