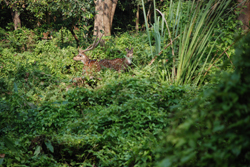 A couple of deer
Chitwan National Park contains: 408 rhinos, more than 100 tigers and around 300 gaur (big water buffalo). The gharial, the rarest crocodile in the world, can also be found there.
To maximize our animal viewing opportunities, we splurged on a full day jeep safari with Ann and Steve. We anticipated finally seeing bunches of rhinos and maybe even a tiger.
We loaded into the jeep (after crossing the river by canoe) and drove off searching the forest for wildlife. Probably one of the first things we saw was a wild rooster and a couple wild pigs. The boars bolted into the forest leaving us facing a little rooster standing in the middle of the road. The jeep behind us pulled up after the boars fled. I heard them laughing at the sight of us stopped in front of the chicken.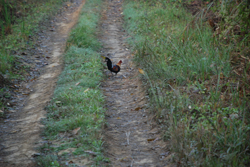 Why did the chicken cross the road?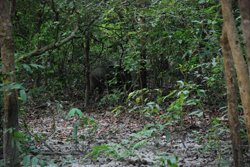 Boar bolting
We saw a barking deer as well as lots of the speckled variety including one male with a huge rack of antlers. We saw a green flock of parakeets fly into a tree and seem to transform into leaves. We saw a crocodile lying on its back looking dead, more boars, more chickens (including a hen), a couple monkeys and lots and lots of rhino dung. In fact, it seems like we've seen enough rhino dung to build a whole herd of rhinos. The guide said they drop about 50 Kilos of dung at a time. We drove through grassland, sal forest, riparian woodland and more forest, by lakes, rivers, and army checkpoints. We also saw some very large termite mounds.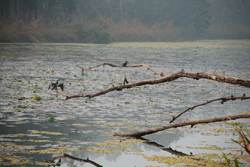 Cormorant and kingfisher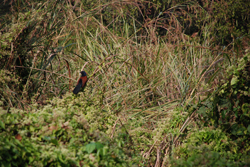 Bird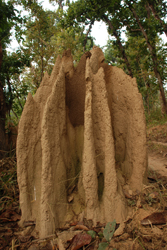 Termite mound
For lunch we ate on a beach by the river. In the sand were the footprints of a tiger and cub heading off into the forest. After lunch we headed back passing a jeep that had started at the same time as us. A woman in it asked, "Did you see a tiger?" When we said no she said in a snide voice, "We did and it was THIS close" (gesturing about a foot away). Too bad it didn't chew your ugly face off, I thought. I smiled and replied, "cool".

"What have YOU seen?" she asked, like the spoiled rich girl at school who has just announced she got the Deluxe Barbie Dream mansion with pool and golf course. Ann said, "Nothing." I said, "What do you mean nothing? We've seen CHICKENS!" We took a different road back and passed a stream with little beach areas, each containing a sunning crocodile.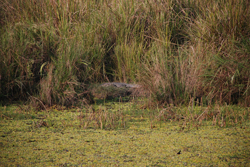 Crocodile beach
Then we came upon a wagon train of carts full of reeds for thatching drawn by water buffalo. There were about 7 carts. We managed to get around when they reached their destination. I remarked, "Now we've seen chickens, pigs, and cows!""Old MacDonald's Safari." Steve joked.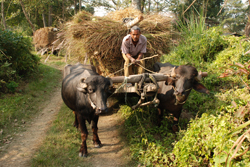 Water buffalo