Hotels and Himalaya mountains (Annapurna range)
By the time we reached Pokhara, the afternoon haze had hidden the mountains. After a brief walk along the lake and Lakeside, the main drag, decided we should stay here for a month instead of Kathmandu. I asked at several thangka shops and soon found someone willing to teach me.
Pokhara has a perfect location. We settled in on the lower end of the lake. Although the back streets are full of hotels, the water front is easily accessible and presents a dark green stretch of silence against the row of souvenir shops and restaurants that face it. Across the lake is quiet forest.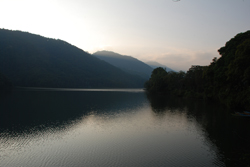 The peaceful lake, Phewa Tal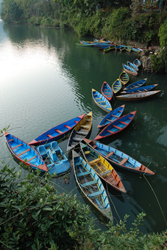 Boats waiting to be hired
The central part of the lake is crowded and the view from the street is blocked by buildings. A few restaurants have waterfront seating accessible from small alleys. The Northern part of Lakeside begins to feel more like what it had been originally with rice paddies and fishing boats on the shore and even a few non-tourist geared businesses (though most are the standard tourist fare.)

It is an unbelievably relaxing place and one where it would be easy to sit and do nothing much.

I should mention this morning the mountains were out-- glistening through the haze. From our hotel room we have a great view since behind the hotel is a garden and a vacant lot-- giving us an unobstructed view of the mountains (though the lower hills have some hotels in front).