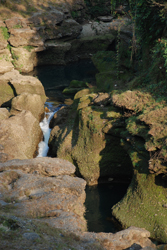 River carved rocks berfore Devi's Falls
The walk to Devi's Falls took us along the lake, by the dam, and then along a busy road where minibuses and motorcycles rushed by. We got tailed by a couple kids begging for "one rupee". Eventually they gave up on us as we reached the entrance to Devi's Falls.
The site didn't look like the location of a water fall. In fact, looking through the gate, it was kind of flat and grassy with a concrete model of the Himalayas. A concrete walkway descended maybe 10 feet and led to where the falls were. From the path we could see large rocks carved by the water into mismatched puzzle pieces. The carved stones created windows where we could see glimpses of rushing water. One of the walkways brought us to the edge where the falls were visible, bursting through one of the stone windows and plummeting into the dark chasm. We couldn't see the bottom but this was partly due to the walkway being set a little back from the edge. There was less water than in the summer but the falls were impressive just because of their subterranean nature. The stone walls of the chasm were covered with green plants which hung like stalactites. Another walkway led up a little to the top of the falls where water gathered in dangerous dark calm pools before it hurled over the edge.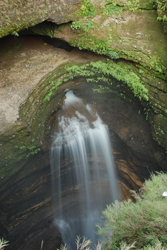 Devi's Falls finds an opening in the rock
A sign provided the following information about the falls. The ancient name was Patale Chhango. However, the falls began to be called Devis Falls in 1961. The charming story of the name change (as described on the sign) is as follows:

"On 31st July 1961 A.D. In the afternoon a sudden flood from Phewa Lake swept away a Swiss citizen Mrs. Devis who was having a bath with her husband beside it. She was flowed and dead. She was recovered after a long attempt. Since then, it has been taken its name "Devis Falls."

I'm not sure what it means to be "flowed", either.

In the evening both of us had the unpleasant surprise of finding ticks. After Rowshan bravely removed them from me and himself, he washed everything with boiling water heated up in our little electric water boiler since the hotel hot water was solar and only worked when it was sunny. The process took hours.

The hotel manager said that lots of people return from jungle safaris with these unpleasant hitchhikers. He said they didn't carry any particularly frightening diseases like other ticks in the world.... a fact which I looked up on the Internet anyway.