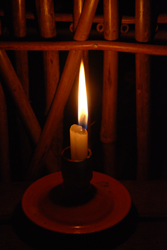 Shortage of Electricity
It is hard to believe it is almost Christmas. The weather is pleasant and the plant life is lush and green. Orange honey suckle flowers tumble off building walls. There are bright yellow flowers in the trees. The only Christmasy looking items are the giant poinsettia trees but even those seem a bit to tropically flamboyant.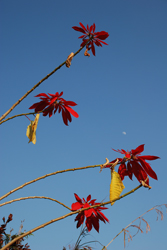 Poinsettia Tree
Another strange thing about Christmas in Nepal is the lack of lights. I hadn't realized how much I associate lights with Christmas. Here, as the days get shorter, the power cuts get longer. The electricity was out at least until noon today and from 5 until 10 at night. So instead of festive Christmas lighting, the streets are dark except for the minimum light bulbs, running on batteries, necessary for businesses.

Our hotel, Hotel Sakura, was a good choice and we are grateful for both the 24 hr hot water and battery powered lights since the daily power cuts have been expanded to 16 hours a day. We also have a couple nice neighbors who don't care if there is electricity or not.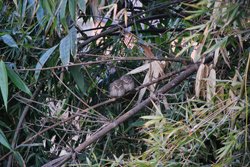 Our owl neighbors