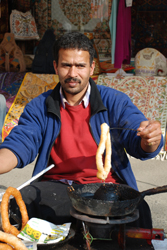 Shiva making sale roti
We've fallen into a routine: We get up around 8:30 and gradually make our way to the Asian Tea House where Shiva and his wife Tara make us a delicious breakfast of our choice: eggs, potatoes, and toast, or banana pancakes, or Tarkari (Nepali—curry), eggs and fried bread (Sale roti). We also get their famous masala tea. On our second visit to the ATH, Shiva, the owner, said he didn't know about his cooking but he knew he made the best masala tea in Pokhara. We had to agree with him on that one. However, we can vouch that his and Tara's cooking is wonderful.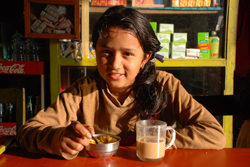 Rashma with Tarkari and Masala Tea
The Asian Tea-House is a hole in the wall restaurant of the best kind. The shop is off a driveway and so small the chairs on one side of the table have to be moved whenever an SUV or truck pulls into the driveway. What it lacks in size, it makes up for in friendliness, since everyone sits together and there are lots of regulars. The food is cheap and good. The kids play in the courtyard and the area in front of the tables. One day there was a soccer game in the drive as well adding to the dining excitement.

Often we will meet other breakfast regulars-- locals eating tarakari and sale roti, or foreigners who, once they discover the Tea House eat there every day. Cooking for customers is done simultaneously with getting the kids ready for school and running cups of masala tea to shop keepers on Lakeside.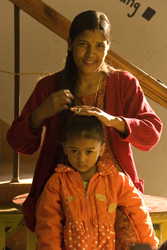 Tara and Ganu
At ATH a customer asked Shiva, "Which is faster, chowmein or fried rice?" He quickly responded, "The fastest thing would be to just pay me for the food and not eat anything." We all laughed. Shiva is one of our favorite people in Pokhara. Aside from preparing great food, he had a great sense of humor and a friendly manner which transforms customers from stranger to friend within minutes.

We've also become good friends with Shiva and Tara's kids, Ramesh, Rashma, and Ganu. Both Ramesh and Rashma speak English very well. Ganu is the littlest so hasn't learned yet. At meals we talk or Rowshan plays games or jokes with them. We also had fun with Ramesh, Rashma and Ganu's cousins who visited and liked to practice English.
What is this?, VERY GOOD! (video file)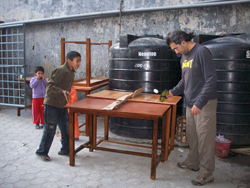 Gundrugi and Murelo playing ping-pong
Rowshan taught everyone a game where you flip a match box and depending on what side it lands on, you are either a monkey, donkey, king or queen. Most often it lands on the donkey or monkey (large) sides. This game is also a favorite with Ramesh, Rashma, and Ganu's cousins. When Ramesh got a haircut Rowshan learned the Nepali word for "baldy", Muralo, and nicknamed him that. In return, the kids nicknamed Rowshan, Jagalti which is Nepali for someone with long, untidy hair (like a sadhu with dred locks). Rowshan objected so they changed it to Gundrugi, which is a green vegetable which when dried, they said, looked like his hair. Shiva told us a funny story about a tourist who came into the shop raving that she had bought some marijuana for a really great price. It turned out to be the plant, gundruk.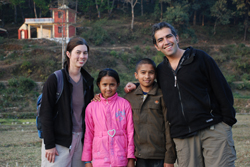 Ramesh, Rashma, Rowshan, and Tamia
Ganu saying "Murulo Murulo Happy Birthday" (video file)
One night Rowshan was sick so I went to ATH by myself. Everyone asked where he was and when I said he was sick they all wandered off. Earlier, Ganu didn't see Rowshan and came up to me and said something in Nepali. I, of course, didn't understand, so she clarified by pointing to the empty seat next to me. I gestured behind her where Rowshan had walked up. A smile lit up her face as she turned and saw him. He playfully pulled her hat and she responded by hitting him.

The second night Rowshan was sick, Ramesh and Rashma accompanied me to the hotel bringing some food I ordered for him. They were welcome company.

On one of our last couple days in Pokhara, we took Rashma and Ramesh boating on Phewa Tal. It a little nerve racking because Rashma can't swim and Ramesh only can a little and of course the boat didn't have any life jackets. Rashma liked perching on the prow of the boat and would sometimes excitedly shift position freaking us out that she'd fall off.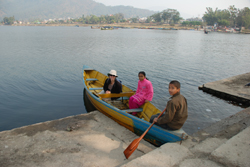 Tamia, Rashma, Ramesh boating on Phewa Tal
The boat was a heavy wooden boat and we all got a chance to row, though to get anywhere it was best when Rowshan and I teamed up. We looked for birds and Rowshan and the kids joked a lot. We visited the temple on the island in the lake and a group of Nepalis wanted to take photos with us.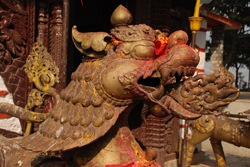 Lion guardians at island temple
Of all the people we met in Pokhara, we will miss Shiva and his family the most.