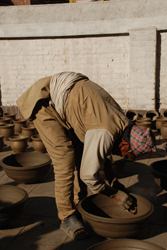 Smoothing a clay piece
Thimi is a quiet town which occupies an area between the old and new highways to Bhaktapur. It is known for its mask makers and potters.
We entered the town through the gate near the new highway and walked up a steep hill. Soon we began passing Newari buildings and temples. What was different were the rows of ceramic pieces set on the street to dry or sometimes in temple platforms. One shrine had piles of ceramics being stored inside.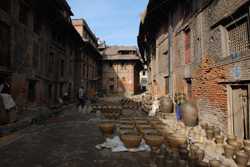 Pots drying in the street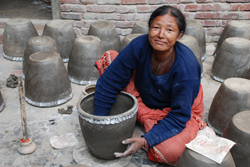 Woman working on a pot
On one back street we saw people making pieces as well as piles of clay and hay. The pieces are rough-- some made on the wheel but more made by pounding clay with large wooden mallets.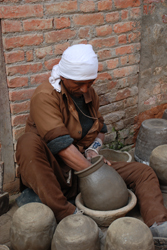 Making a pot by hand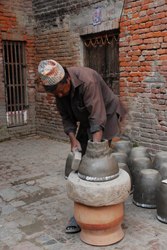 Pounding a pot into shape
In another courtyard we found the kiln, a big pile of ashes and broken ceramics with air holes poked into it. Many buildings had clay pots hanging from the roof struts near the windows. Rowshan watched someone work at a wheel, then tried his hand at pounding a piece out. One woman beckoned us to come in and see the terracotta Buddha statues she worked on. They were from a mold then finished by
hand.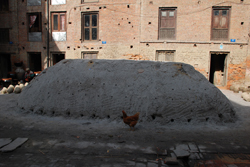 Kiln in a courtyard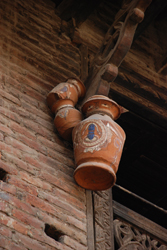 Pots hanging from roof strut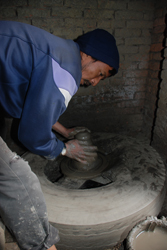 Sculpting a pot on a real wheel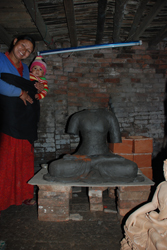 Buddha in progress
Since Rowshan had gotten his ceramics fix, we continued North to where we could see the mountains rising behind new brick houses, past rice paddies and fields. Our bus ride back had a goat passenger.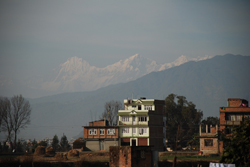 Mountains beyond new buildings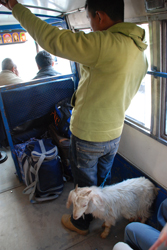 Goat bus passenger