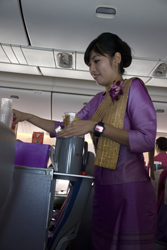 Flight attendants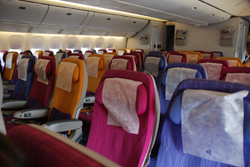 Empty seats
Then the mountains disappeared and we flew over marsh, swamps, and river estuaries, probably Bangladesh, going from the highest mountains in the world to sea level.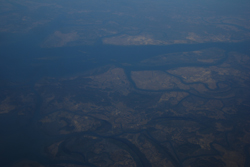 low lands
Arriving in Bangkok was another, "Welcome to the 21st century" moment. The airport is new, shiny and modern with lots of lights and flashy advertisements as well as contemporary art as part of the décor.

The airport bus was air conditioned and also seemed new. We were whisked along a huge smooth highway past billboards and tall skyscrapers with frivolous lights-- company names and even a Saturn like ring. Off the highway, we went by rows of lit food stalls. Wow! Electricity everywhere!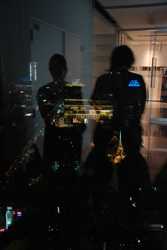 Electricity, lights, and skyscrapers