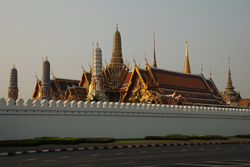 The Royal Palace
This morning I awoke to the exotic songs of local birds and the comfortable remnants of cool night air which drifted before being banished by the hot day.
It was a gentle tropical morning even though the sounds of cars and other human generated noises reminded me I was in Bangkok and not a tropical island.
We are staying next to the river. There is a view of a patch of it from the room we've moved into on the 4th floor. Most of the view is obstructed by a luxury apartment building. But the corner room gets a welcome breeze.
Today I willingly went into a department store. I was lured in by a design exhibit on the 8th floor. Yes, an 8 floor department store. We took the escalator up to the 7th floor which required seeing the shopping displays. This was a swank department store. You can tell a swank department store because the sections of clothing are all color coordinated. The in-store DJ was also a clue. There was the American West section with denim blues, browns, and dusty tones, as well as a guitar. The little kids-- mostly pink with some light blue and lavender. Other styled areas: one with black with touches of fuscia, teal, and violet. The Sanrio section (All your Hello Kitty needs but a bit more fashionable than when I was a kid).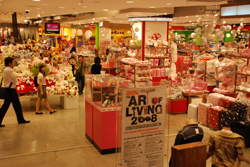 Hello Kitty section of department store
From the 7th floor we took the elevator to the 8th floor. The design exhibit (Home furnishings) was part sales display but part gallery exhibition. Some furniture pieces were priced and you could try them out (though it was a bit awkward because they were on raised platforms.) Others had "Do not sit" signs. There was a set of furniture of wire frames with colored rubber reminiscent of alien goo from a sci-fi movie. (though not as sticky looking). There were some horribly uncomfortable stools supposedly fitted to how the way people sit has changed. (I can only assume it means people don't sit anymore).

There were also several colorful fun whimsical pieces including sets of 4 animal benches that fit together serving as furniture or play things, some chair covers with quilted animals and things like, "I'm hungry" written on them, and silver plastic versions of these wooden drum stools my family has which as kids we used to play turtle with (holes on the sides and bottom enabled us to stick limbs through). These modern varieties had not considered the turtle game aspect of the design ruining possibilities of this pass time by closing the bottom and making them a bit taller and less turtle shaped.

The shopping mall also had an exhibition from a design school where students had made alphabets using shapes made from or found in particular objects. These were great: some included squished paper cups, sprouts, shoelaces, zippers, forks, and the one I considered most ingenious-- patterns on a canteloupe skin.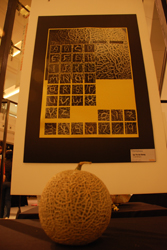 Typeface inspired by canteloupe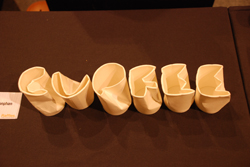 Typeface from paper cups
These 2 exhibits got me thinking that perhaps the Thai design scene is more whimsical than the American scene. It also got me thinking of what design means in regards to the development of a country. What does it mean when a country is able to focus more on "Graphic Design"? What role does the artistic history of a country play?

In Nepal most of the commercial design, for example, signs and public messages, are still rough paintings with unmistakable meanings: a goat or chicken head on a butcher shop. There aren't many sophisticated or abstract concepts (except in religious art).

In Thailand (Bangkok) I was struck, like in Iran, with the abundance of modern graphic design.

I should mention, the reason we were anywhere near the swanky department store and mall was a small world music festival happening in front of it. Some of the acts we saw were drumming, a xylophone group, and a Khmer musician with dancing.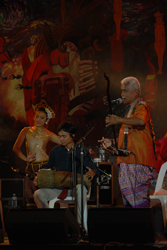 Khmer music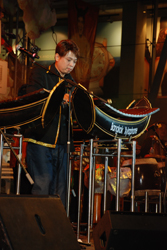 Xylophone Superstar