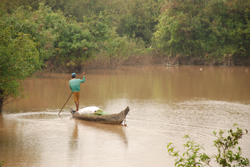 Boatman on the river
We rented bikes and in the afternoon tried to bike to Kampong Phluk but after asking for directions we got tailed by a tout on a moto trying to get us onto a boat.
At first it was a pleasant ride. Once we got off the highway we went through Roluos village, a shady paved road with raised houses on either side. Some seemed new and modern. Others were more basic with palm leaf walls. Some had hammocks underneath where people relaxed, gently swinging. Children yelled out, "Hello!" and "Bye-bye", waving as we went by.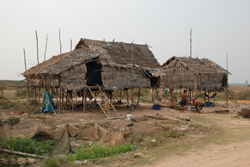 Stilt House
The river was a muddy stagnant ditch and I couldn't see how a boat could get down it. The paved road ended in a couple km and we were on a dirt road. The traffic of bikes and motos had hardened a path in the otherwise sandy soil. Every house seemed to have a well with pump and a sign about the organization and people who donated it.

The trees became more sparse and the landscape opened into a broad flat plain of dusty blues, browns and greens. We came upon a small village of low stilt houses with palm leaf walls. We were soon surrounded by children waving and saying "hello-bye-bye" I tried to think of another word to teach them. Little girls wore long dirty skirts. Some of the littlest boys wore no clothing at all. Several children found my Teva sandals very interesting. Perhaps they'd only seen flip flops or tennis shoes. A couple may have been begging but fortunately for us they hadn't learned enough English to be annoying.
Rice paddies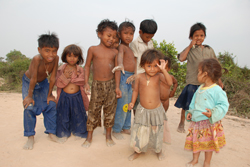 Hello-Bye-Bye kids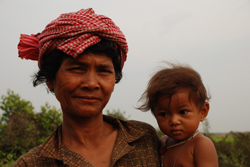 Mother and baby
We still had no view of the lake though the river had gotten a little bigger. Suddenly the land turned a bright pristine green as we reached an area full of rice paddies. We kept on. The road because a lot more difficult-- hardened rutted mud or patches of sand. But still, no village. We finally reached some boats as well as our tout who, when Rowshan finally had chased him away, had gone ahead. A bit farther were more boats and the road ended. From there it was necessary to take a boat to the village at $15 person r/t. We thought this was pricey and also it was getting late so we needed to turn back. It was a rough ride back and it was dark by the time we got back to Siem Reap.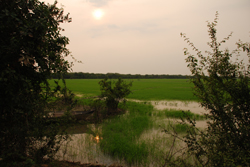 Rice paddies at sunset