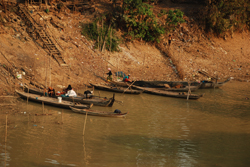 Boats on the river
The bus stopped in Sisophon for a 20 minute lunch break. It was 10:30 AM so maybe it was a mid-morning snack break. Vendors must hate air-conditioned buses which make it harder to sell... no shoving last minute purchases through an open window as the bus pulls off.
Since we had time, we walked inside the bus station parking area and saw a woman selling fresh spring rolls. We tried two and then ate 2 more. Some of the locals laughed at us. I'm not sure if it was Rowshan's hair or how we were stuffing our faces.
There were a couple women waiting for a pick-up truck. Rowshan took their photos as they sat on the truck and they pulled me into the picture, pinching my cheeks as if I were a little kid even though they were either around the same age as us or younger. They were friendly and one spoke a little English. I said, "Akun" (thank you) and she said, "speak Khmer?". "No," I replied. "Just 'akun'" She then asked if Rowshan was my boyfriend. Rowshan said, "Husband (pointing at himself)" "wife" (pointing at me). She then repeated, "Speak Khmer!" and told us what we hope were the words for husband and wife in Khmer.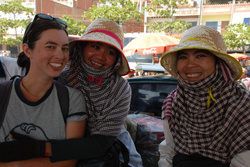 Speak Khmer
We said "goodbye" and boarded the bus. I bemoaned the mandatory meal break because it gave parents a chance to re-fill the stomachs of their bus-sick children, the contents of which would invariably come back up within the next half hour of the bus ride. We had a child puke next to us and diagonal to us. A noise and smell from behind us suggested the kid sitting there had as well. The road, though a bit bumpy, was completely straight and flat. I'd hate to see how they'd fare on the road from Khorog to Dushanbe. Another pet puke peeve I have is when people throw up and keep their bag of puke instead of throwing it out at the first opportunity. On the road from Pokhara to Kathmandu we actually handed a guy (who was behind us) his bag of puke which he had left sitting on on his seat and told him to get rid of it. Instead of getting back off the bus and disposing it somewhere, he just dropped it out the window which probably unpleasantly surprised whoever stepped on it. Anyway, the parent across from us had hung her daughter's puke bag from the bottom of the seat where it contributed to the odor of the bus. I was, for once, relieved to have foreigners in the 4 seats in front of us so we weren't completely surrounded by puking people.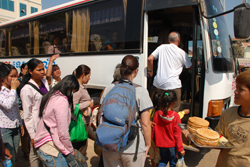 Back on the barf-mobile
Battambang's appeal is it doesn't really have tourist sights so it is a normal town with a normal economy. Tourists are treated fairly normally-- a few offers of tuk tuks or moto-taxis at hotels but that's it. The river is pleasant enough to walk along but it's nothing special. The historical buildings are masked by dirt and big signs advertising the businesses housed within. There is a museum and some nice wats but nothing to compete with Angkor.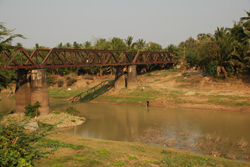 The Sangker River
There is a central market with food vendors in the center selling noodles, soup and fried meat. They leave around 5 PM and are replaced by barbecue meat vendors with whole chickens and ducks turning on spits and little skewers with pieces of meat, red with sauce.

For lunch I had baboung--a yummy dish of cold rice noodles with a little broth on a bed of lettuce, mint, basil and bean-sprouts, fried pork pieces, a couple cut up spring rolls, coconut milk, and ground peanuts topping it off. It seems very simple but is very tasty.

Later we decided to sample some exotic fruit. We tried pieces of some big round citrus fruits which looked like grape fruit but tasted sweet, almost like pineapple. We were surprised when we were quoted $1 for one fruit. At the central market we tried something that might have been Ple Teuk Doh Kau (the word the seller gave us sounded something like tik-tak-toe), a round purple fruit with slimy insides and mien which are like lychees.

Our walk through town soon brought us to a village. Battambang is Cambodia's 2nd largest city but waling about ½ hour from the center brought us to villages with stilt houses and Brahmin bulls grazing in the fields.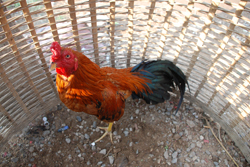 A rooster eyes Rowshan
We were trying to find the bamboo train and made it to the tracks but didn't feel like waiting around for the train-- a bamboo platform powered by a motorcycle engine which runs on the train tracks. We crossed the railroad bridge which had boards nailed down the middle of the tracks making it walkable.--though a bit scary, with the murky river below. On the other side of the river was a wat. We visited it then headed back to the center.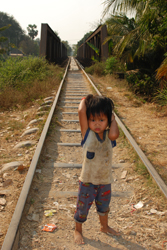 Child posing on the railroad tracks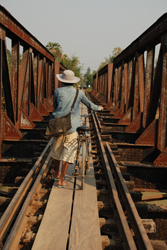 The railroad bridge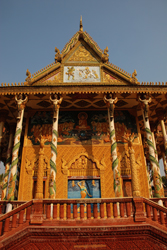 Wat in one of the villages near Battambang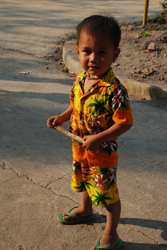 Kid playing by wat,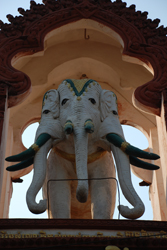 Multiheaded elephant on gate of wat