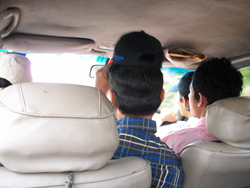 Crowded shared taxi
We got to Phnom Penh easily-- $10 for the full back seat of the car. The driver stuck 3 more people in front-- a common practice. 2 were in the passenger seat and one in the driver's seat with the driver sitting on his lap. Do you suppose you pay less if the driver sits on your lap? Do pretty girls ride for free in that seat?
Phnom Penh so far hasn't been the most inviting of cities. It greeted us with dusty sprawl. It's polluted and dirty. All the cars and motorcycles probably add extra heat to the already high temperature. Also it is more expensive than other parts of Cambodia but you get less for your money. We arrived on Valentines Day so the sidewalks had lots of flower/balloon/cute love trinket sellers.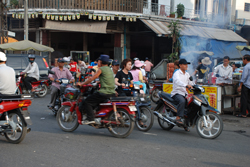 Phnom Penh traffic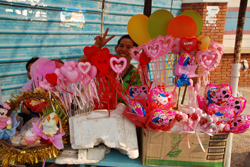 A Valentines Day balloon seller
The riverside area of Phnom Penh is filled with tourist restaurants, bars, and cafes. We visited the National Museum. It is housed in a pretty wood building with tall open windows and a courtyard so there is lots of air circulating. The building is like the Thai/Cambodian palaces and wats but is a reddish colored wood instead of gold so it feels a bit more down to earth.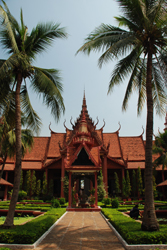 The National Museum
The exhibits were a lot of statues and items from Angkor and 18th and 19th century pieces. The 15th-17th century must have been some kind of dark ages in Cambodia because there were hardly any items. The 18th-19th century pieces looked Thai. There was an exhibit of old photos and engravings. The funny/sad thing is some of the subjects still look the same-- traditional stilt houses, rice paddies etc.

We walked by the palace while it was closed for lunch so didn't go in. We also visited a market where we had a decent lunch of rice, eggplant and green peppers. I'd been a bit wary of the food places where the dishes are all set out in the open already prepared, but they tasted good. Hopefully we'll be OK this evening. After lunch we hung out at a gourmet cookie place (which was also a cafe). The Camory cookie company has a sign out front saying "Eat 1 cookie and you can send a child to school for 1 day". This is the kind of humanitarian work I can get into: hang out in a cafe, eating cookies... No child left behind... better order 5 more cookies.... (OK they are small). We had a cookie sampler of cashew nut, spice cookies, mocha, and shortbread. Tasty.

Cyclo drivers wait outside the market
Phnom Penh is named after a hill (Phnom means "hill"). We walked to the "hill" and walked around it. The cicadas were deafening. The hill really is not too impressive. It is 27 meters high and has a wat on it. As I said before, Cambodia (at least the part we have been in) is not the most mountainous of regions.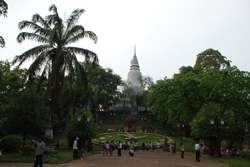 The Hill