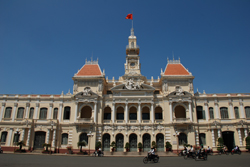 A building in Saigon
After Phnom Penh, HCMC is rather pleasant. It is a little less humid and there are sometimes even breezes. The center of town is a mix of French Colonial and more modern buildings. There are parks and tree lined streets. The bus dropped us off right in the center of the tourist area with hotels everywhere. It was a fairly easy country transition compared to some others we've been through. The bus was direct, stopping at the border for a lunch break. The passports were taken care of by the bus company (we had also paid them a few bucks to get our Vietnam visas). It was a pleasant surprise when the bus dropped us off in the center of the tourist area when most other buses go to bus stations farther from the center.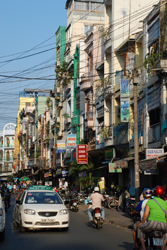 The tourist ghetto of Hochi Minh City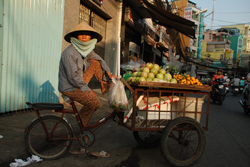 Fruit seller
Unfortunately I've had an allergic reaction to the bedbugs at the first hotel we stayed at in Phnom Penh so I have a rash from the back of my knees up my butt to my waist as well as on my upper arms and shoulders. It makes doing everything rather uncomfortable.

Last night after getting settled and eating a dinner of pho and fresh spring rolls from a street cart, we walked through the park where people played a sort of foot badminton-- hacky sack using a big birdie. We had some shakes then went back to the hotel to chill. Today we walked to the Saigon river then around the ritzier tourist area where the Post Office and Notre Dame cathedral are located.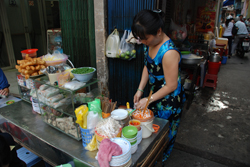 Spring roll and pho cook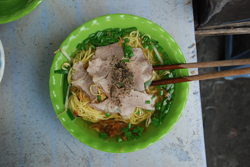 Pho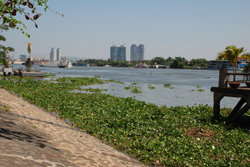 The Saigon River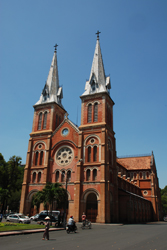 The Notre Dame Cathedral