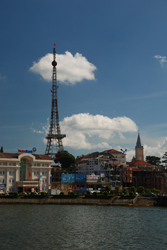 The Dalat tower
The abundance of manicured lawns and parks, kitchy buildings, lake with swan boats, and cheerful summer vacation architecture makes Dalat seem like a giant miniature golf course. Any moment I expected to see a giant golf ball come rolling between the legs of the the radio tower which would light up with flashing colors and electronic music. It is a mountain resort town and does have a pretty location-- surrounded by hills and trees. It's just, as seems to happen with many mountain resort places, a bit too polished and "prettified" as if the town wants to separate itself from the beautiful nature around it and present the visiting honeymooners and tourists a marshmallowized version of paradise.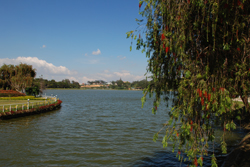 The Lake in Dalat
The first part of the bus ride was torture. As usual the locals started puking within 15 minutes of leaving town-- before the road even got bad. Then the road became a potholed mess. The driver would accelerate as he swerved around them. If he couldn't avoid them, the bus would rock like a ship in a storm as it went over them. I had to pop a motion sickness pill to avoid puking. Fortunately, about ½ way to Dalat, the road became smooth and since we were ascending, the driver had to go slow and couldn't veer around the bends.

As we got closer to Dalat, I was happy to see more green pine trees and shady patches of forest. We walked to the lake going by a big church (at the top of a slope, just like in a miniature golf course).

Later we found further evidence that Dalat was designed to look like a miniature golf course. We found a restaurant with a red windmill (Moulin Rouge)built into it as well as an entrance to somewhere designed to look like a castle.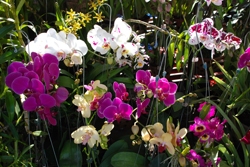 Orchids for sale,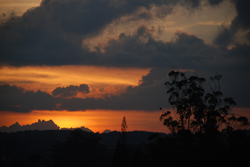 Sunset from the Pink Hotel