Cat Ba Harbor at night
The boat to Cat Ba Island was smoky, rusty, crowded, and generally unpleasant. However, once we got out of the river, the landscape began to change into the characteristic limestone mountains resembling the tall narrow peaks found in Chinese paintings, frosted with green plants. We made a stop at an island then progressed along a coastline dotted with islands whose bases were eaten away by the water.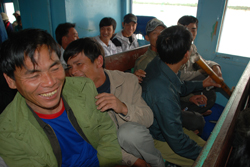 At least some people had fun on the boat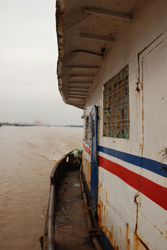 Rusty boat
On the deck of the boat we were able to forget the discomfort inside and watch the quiet landscape. We weren't technically in Halong Bay, but the air held this mythic feeling that I imagined the bay would have. It is one of the locations which transcends the human world. It is what I've been longing to see in Vietnam. Many parts of the shores were inaccessible with rock faces at an angle to the water below, unclimbable. There were a few with empty beaches. It was all quiet and beautiful.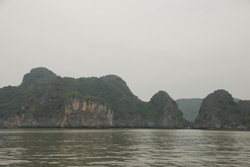 Limestone Islands
As we approached Cat Ba, the first thing we could see was the floating village. Then we rounded the bend and tall rows of hotels appeared. We docked and slipped through a crowd of bikers. Surprisingly only one tout approached us. We managed to escape easily.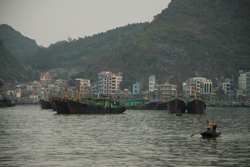 Over development of Cat Ba Town
It was a different story in town and we got accosted by many hotel touts and motor taxis. There are tons of hotels. It was sad to see how the hotels marred the landscape and more were being built-- drilling into the limestone cliffs. We walked to the end of the hotel row to a tall fancy looking hotel but the rooms started at $50. Coming back a tout followed us. Rowshan got mad at him and he yelled back, "Why are you angry. Tourists like this." We disagreed.

We looked at several more hotels. Then I sat and had coffee with the bags while Rowshan looked quickly and more comfortably. As I was drinking my coffee, a foreigner came up to the hotel/restaurant tout girl and said, "I wanted to stop and say hello to you because you were the first person to say "Hi" to me here."
She replied, "You want to eat?"
He said, "No, I just wanted to say Hi."
She then tried to interest him in a room.
He said, "No. I don't need a room."
"What do you want?"
"I just want peace and harmony." He went on about how he had just had a nice peaceful day.
She asked him if he had a girlfriend.
He said, "No, I don't want a girlfriend. I just want peace." I wondered if he was battling with the same frustration and anger that we'd experienced and, after a peaceful day, was trying to make amends and be nice to locals. I admired his effort and patience. Eventually he gave up and walked off. Rowshan returned and had found a huge, nice room on the sixth floor of a hotel (no elevator). It had a balcony, lots of windows and a view of the bay. It also has the row of clocks labeled with different cities, which seems to be a mandatory feature of every hotel in Vietnam. Rowshan speculated that whenever someone opened a hotel, people were expected to give them wall clocks as presents. Another feature of these hotel clocks is they usually didn't show anything near to the correct times anywhere.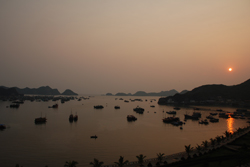 View from our hotel room balcony
Vientnamese hotel clocks
All content of this website is © 2007-2008, The Little Black Fish