Floating Village
Cat Ba Bay was full of boats. The floating village, unlike the ones we saw in Cambodia, was only reachable by boat. The houses of the village were mostly green or blue. Boat taxis took people from the village to the shore. Our boat had been met by several of these boat taxis. On the shore people were busy repairing boats by painting the bottoms with melted tar. The road ended at a resort. We walked down through it and found Cat Co beach #1.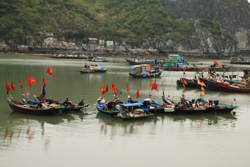 Boats near the floating village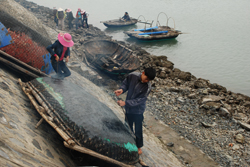 People repairing their boats
Even with the resort (which was very empty) marring the scenery, the beach was peaceful. A set of stairs led up from the beach to a walkway along the cliffs. From the walkway we looked out to the ship-like island against a white cloudy sky. The water was an olive green.

It was beautiful, quiet and empty. Rowshan said, "Someone should start a service that when you get to a wonderful, perfect place, a helicopter swoops in and takes you to an airport so you can fly home with that last beautiful memory of the place."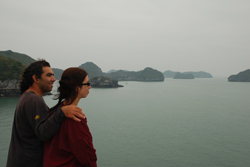 Where is that helicopter?
Cat Co 3 was also marred by a resort and a water slide. The walkway along the cliff was closed due to damage so we took the road to Cat Co beach #2. There was a recreation area with bungalows and thatched umbrellas but it seemed empty. We had the beach to ourselves and were able to finally relax on the sand and enjoy being here. Later we saw a photo of the same beach during the high season. It was packed.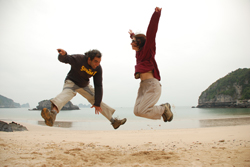 Yay, the beach is all ours