View of mountains from our hotel in Vang Vieng
There is something evil about Vang Vieng. I read about it in the Lonely Planet and Travelfish but I thought it was just an exaggeration. Until I got here and saw it was true. There are all these bars that play re-runs of
Friends
-- and in the evening-- after the sun goes down-- all these foreigners seem to assemble-- like moths, hypnotized by the light, dazed staring at the TV screens. Its eerie. I suspect something evil-- subliminal brain washing? Maybe it is all the "Happy" drug -laced drinks they serve. Or maybe there really are zombies in Vang Vieng who have been eating tourist brains.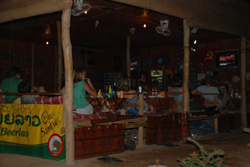 Zombification
Our trip did not start out very auspiciously. The "A/C" bus we got onto stunk and seemed to just be recirculating warm smelly air. It left downtown about half an hour late and even though it was full went to the bus station.

The woman sitting in front of us was a tour leader. She had been talking with the bus crew and they had been futilely pushing buttons and holding their hands under the air vents. At the station, she took her group off the bus, by this time it was cooler outside, and found another bus for them. Since they made up half the passengers the bus crew said they'd fix the bus so she agreed to stay. There was a fan belt broken on the compressor. Several men gathered around and pulled and poked at it. Then they reverted to staring at it. Someone went for new parts. About 1 hour later he had returned and they got the bus fixed. We all boarded and left with working AC. I should add the advertisement for the bus said, "price includes AC, cold towel, drink, snack, good DVD movie." Needless to say, we did not see any sign of the other items promised, not even a TV monitor. But one thing I've learned traveling is to take these bus ticket promises with a grain of salt.

About ½ hour into the 3 hour trip, a high pitched buzz started. It sounded like feedback on a speaker. The bus crew seemed to suggest it was something to do with the AC however it seemed to be affected by shifting gears. The bus crew laughed and joked with each other, unperturbed by the screeching. I guess one has to admire their sense of humor. After all, they'd be stuck with it on the return trip as well.

As we climbed into the mountains, I did start to admire the surroundings-- lots of green jungle, and wood and thatch houses. Girls walked by dressed in dark wrap around skirts with decorative borders. As we got closer to Vang Vieng, the limestone karst mountains rose up through the haze.

The bus dropped us off at a resort where a new group of unfortunate backpackers were waiting (probably wondering why their bus was 1.5 hours late) and unsuspecting that the next 3+ hours would be aural torture.

We had dinner at a place near the bungalows we'd checked. It had a pretty view of the sun setting behind a karst. We wandered over the river and through a village which was mostly a conglomeration of guest houses.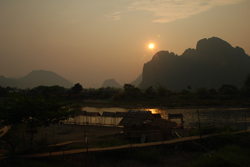 Sunset over the mountains in Vang Vieng
Then we headed back through town, past the zombie bars. As we sat in a cafe we saw people coming back from tubing. One girl walked through town in a bikini. Guys without shirts lounged on tubes in a sawngthaew. (Note: It is considered impolite in Lao culture for men to go about shirtless and probably worst for women to go around clad in bikinis (Lao women bathe in sarongs).

Rowshan and I ranted against how tourism was destroying the area. Although I suppose it is our fault as well for coming here. The nature, is beautiful, though.