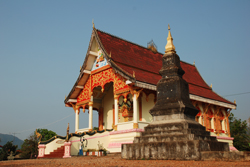 Wat in Vang Vieng
This morning our sleep was only broken by the chanting of a group of monks walking by for the morning offerings. We got up late but it looks like everyone else got up around that time as well. After breakfast we saw tourists sitting down to breakfast in front of
Friends
TV. It still weirds me out.
We rented a motor bike and went to the Organic Farm. The farm is a community that raises organic fruits, vegetables, mulberry trees and goats. I guess they also raise silkworms but we didn't visit that part. They've also built a community center where kids can come for classes in English, sewing, music, etc. I wanted to visit because I needed an antidote to the disgusting aspects of tourism so prevalent here.
It started to rain. We walked to the goat houses and visited the goats who seemed very happy to have visitors. Many of the trees were labeled: durian, guava, star fruit. There were also pineapples. The farm had a calm location by the side of the river. Kids splashed and swam in the water. The peace, however, was marred by a tubing place cranking loud music with annoying people swinging into the water-- party party!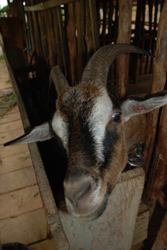 A goat who is happy to see us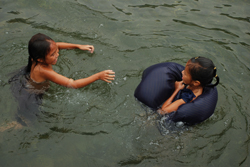 Kids swimming in the river
After lunch, we ventured to the other side of the river. The road across the river was a peaceful dirt road. The limestone mountains rose up from the flat river plateau. Rather wordy signs in English pointed off the road advertising caves with swimming lagoons. One section of the road was full of butterflies.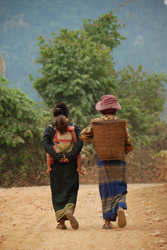 Women walking along the road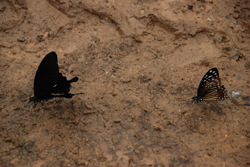 Butterflies on the road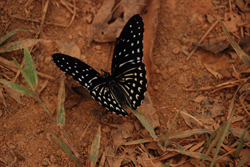 Vang Vieng butterfly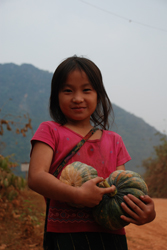 Local girl
The cave we visited, Tham Poukhan, had a ticket stall and a big parking field. The "blue lagoon" was a narrow bit of water with a rope swing suspended from a tree. The water was very blue but it also held more of that hollering party dude stuff.

We rushed up a steep stone path to the cave. The entrance was a hole in the rock which opened into a large cavern with limestone stalactites. Inside the cavern opened out into a larger cavern lit by a hole further up towards the cavern's roof. Where the light hit the rocks moss and ferns glowed emerald.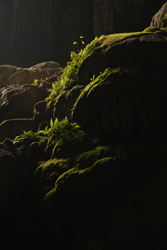 Plants growing inside the cave
This cavern was huge. On the bottom was a gold reclining Buddha with incense and fortune sticks (which after praying, people would shake in a container until one fell out). White arrows pointed the way back which led to another even larger cavern. Our lights weren't strong enough to really look at the ceiling. Footsteps made ominous crackling echoes against the rocks above. There were a lot of people hooting and whistling. On our way out (I think the cavern may have extended even further back) Rowshan heard a woman speaking Farsi to her son. Rowshan said "salam". She, her husband, son and baby were traveling around Thailand and Laos. Rowshan expressed his surprise at seeing Iranians traveling independently.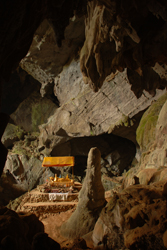 Reclining Buddha in cave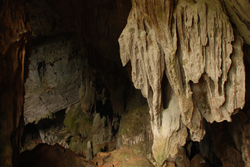 Rock formation in cave
Back by the water we found her husband reading a book on one of the tea platform bungalows next to the river. Rowshan started talking to him. He spoke English fluently and had traveled a lot. He and his family had been to India a couple years ago and he complained about how dirty everything was. They'd been to Laos a couple years ago and liked it so much they came back.

We, in turn, complained of Vietnam-- complaints he was happy to hear because his wife was insisting they go to Vietnam and he didn't want to... at least not this trip. When she came back she confirmed she'd asked someone else about Vietnam who also complained about it.