Blue skies in Vang Vieng over Nam Song river
We were awakened early this morning-- it was before sunrise by what at first I thought was some stupid drunk tourist guys saying, "Woo-hoo!" Soon, as I became fully awake, I realized it was all the roosters crowing. Rowshan said it was as if they were calling to each other and answering. I said, "Finding out if each is still alive, 'Hey! I didn't get eaten last night! Have you heard from Frank?' 'Don't you know, he got his ass kicked during a fight so was last night's dinner.'
By 7:30, the sun had actually come out and the weather was clear. We walked up the road we'd driven up yesterday. There was a sign which stated that down the road was, "Top trekking to see view of Vang Vieng Tistric (sic)" and promising fantastic views. There was also a cave. We went and were told that to get to the top you had to be a climber and climb the steep rock face. However, there was a trail that went to the cave that also went up. At least that's what the ticket guy seemed to be saying.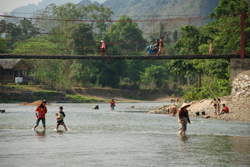 Bridge across the river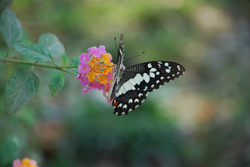 Butterfly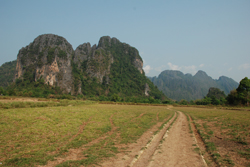 Cave filled mountains
At the foot of the karsts there was a man who tore our tickets and pointed back to an arrow pointing out the trail. We climbed up to the mouth of the cave. There was a little bit of a view of the valley but definitely not like the one advertised by the sign. The cave seemed to go rather deep but my flashlight seemed a bit weak so we just went as far as the second cavern. There were pretty limestone stalactites. Rowshan banged some with rocks and they made a musical sound. We climbed back down and explored some paths. The day was getting hot but the paths provided views of the limestone cliffs rising into the sky.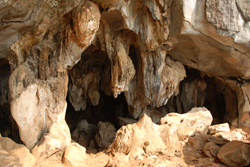 Musical stalactites
The text of the signs are very interesting. All the words are run together and when the painter got to the end of the line he just broke the word and continued on the next line.

We walked back out to the main road. Then went down a path which brought us to a dry river bed. We walked along this and came to a road. It had rained pretty hard the previous night so there were a lot of damp muddy spots next to the road. Butterflies gathered and drank the moisture from the mud. When disturbed they would fly off in strands one following the one in front, sometimes breaking into smaller strands peeling off then rejoining in a fluctuating cloud.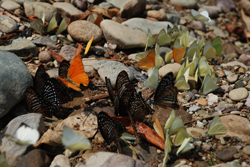 Butterflies getting a drink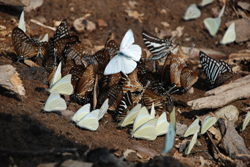 More Butterflies getting a drink
By this time it was very hot. We hoped to find a "blue lagoon" for swimming. Rowshan asked some girls who were walking down the road carrying woven baskets of firewood. They said there was no swimming spots on that road. We walked back to the main road and headed back to town, stopping at a relaxing drink place with bamboo tea platforms. We relaxed with fruit shakes and nori potato chips.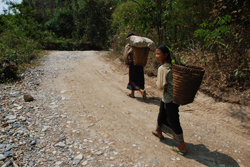 Girls carrying firewood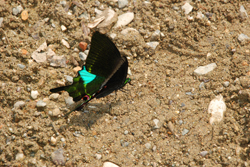 Pretty butterfly (peacocks)
This evening we were sitting in a cafe when Rowshan noticed another couple at the table next to us. The guy was looking disgusted at the scene on the street. I don't know exactly what it was-- maybe it was one of the women bouncing down the street or it was a sawngthaew full of shouting guys. When another sawngthaew went by, Rowshan asked them what they thought of Vang Vieng. They replied they were planning on leaving the next day. We started talking to them and learned they were Swiss and had been traveling for about 7 months and had 6 more to go. They'd taken the Trans-Siberian from Moscow to Siberia and then across Mongolia. They had traveled a lot: trekking in Peru, and Nepal, and even gone to Antarctica. They had had a wonderful trip around Vietnam. They had toured by motorbike with Easy Riders. They talked about how friendly people were, how they stayed in villages in people's houses, had delicious food.

It made me extremely sorry we hadn't biked from Dalat to the North (We'd been quoted $130 for the both of us but they had done it for $70 by just having one guide and renting another bike). This conversation got us excited about travel again. It is interesting how in a town so full of stupid obnoxious tourists, we've managed to meet a very nice and well traveled couples.