The Arts of the Various Ethnic Groups of Laos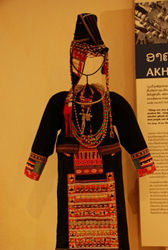 Akha outfit
We moved to a different hotel this morning. The room we'd switched to in the other hotel was quieter but we could still hear the roosters and sometimes get a whiff of animal smell from the houses in front. Our new place has a view of the river and we saw no roosters.
The
Traditional Arts and Ethnography Center
is located at the base of the Phousi Hill in the Old Town. We visited to get a background on the different ethnic groups we hope to visit as well as to understand the groups behind the beautiful textiles we see. The museum is just a couple rooms but has very good signs with information and explanations.
There are 4 main Ethno-Linguistic groups that the tribes of Laos are classified under: Austroasiatic of which only Mon-Khmer are in Laos (Ta Oy, Lamet, Katang, and many Khmu). The Khmu are famous for their baskets. The Hmong-Yao (Miao-Yao or Hmong Mien) consist of Hmong, Mein, Yao, and others. The Tai-Kaday which makes up 69% of the population includes Lao, Tai Dam (Black Thai), Tai Lue and Tai Deng (Red Thai) groups.
Khmu baskets
The Akha make indigo clothing decorated with ribbons and embroidery. The embroidery patterns are often cross stitch and based on box or triangle shapes. The Hmong examples are brightly colored. Most commonly we see indigo batik clothes with line patterns decorated with red or reddish orange applique. The skirts are full and pleated. The embroidered money belt I bought is Mien Yao. The quilted applique pillows I'm guessing are Hmong Der. The beautiful woven pieces with naga designs and ornaments are Tai Lue. The Tai Lue used to make clothing for the Royal families and still make beautiful pieces.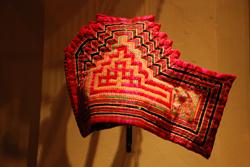 Hmong embroidery