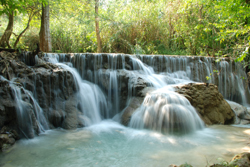 Lower waterfall
We finally went to the Kuang Xi waterfall. We had been walking the main drag hoping to see a tuk tuk with some people already in it since Martin and Beatrice had ended up driving up and down the street for an hour searching for more people. We eventually found one.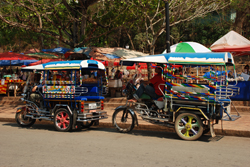 Tuk tuks waiting at the tuk tuk stop
I think some of the road we went on was the same as how we drove into town but then it had been so smoky we couldn't see anything. Now the air was clean from the large quantity of rain we'd had during the past couple days.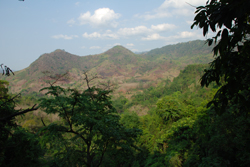 View of mountains from waterfall
The road wound through mountains and villages until we reached a parking lot full of tuk tuks. The waterfall area was a series of trails as well as a center where black sun bears which had been captured from smugglers or from illegal bear bile operations were kept. The bears had an enclosure with platforms, tires, and other bear play things. The bears lumbered about. They were small with a light fur marking under their necks.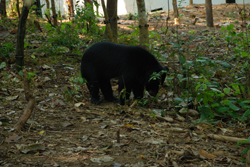 Black sun bear at bear rescue center
Beyond the bears was another enclosed area for rescued tigers but a cursory glance didn't reveal any.

The first series of falls and pools were crowded. The falls made a low wall of water. The pools were sea green and people were splashing and swimming. We walked past towards the 2nd swimming area. The surroundings were peaceful in spite of the people. Tall trees rose overhead so we walked in an emerald shadow. Black butterflies drifted in and out of light spots. Beyond this level we passed a large Lao house which was almost just a skeletal wood frame and damaged woven bamboo walls. The path opened out to a large pool above which the waterfall dropped maybe 100 meters. About halfway up was a pool. we took a narrow steep path and waded in the water at the top to peer over the edge (there was a railing).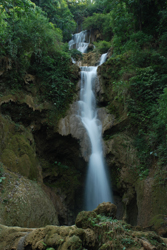 Upper waterfall
Then we went back down and swam at the 2nd level of the falls. The water was cold but not unbearable. Limestone made some collecting pools.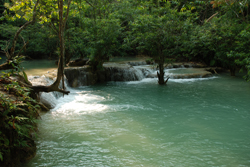 Pools for swimming
We were glad we'd made it to the waterfalls after all. Yes it was touristy but the spot was a cool damp relief from the heat. The falls were luscious and it made for an enjoyable afternoon. Back at the parking lot we got a snack of fried bananas served in a banana leaf, the ultimate disposable dish.

Back in the tuk tuk we headed back to town. The tuk tuk driver was more or less careful when driving except he showed no mercy to chickens. When a flock of chickens were crossing the road, he didn't even slow down or blast his horn. One pullet went flying, dead, off the road.

The one time he slowed was when we reached a bridge with a bunch of kids on either side. We saw they were holding pots. As we got closer we saw they were full of water. We had no time to react. Rowshan tried to shield his camera with his body. Then the driver stopped so the kids could hurl their containers of water and empty the contents entirely on us. Then he continued on the road. Rowshan called for him to stop. "Why did you stop back there?!" he demanded. "Happy New Year" was the driver's response. We were all drenched and the cold air blowing made us extremely uncomfortable. Rowshan held up his camera showing how water came out from the buttons and covered the zoom extension piece. The grip for the zoom now wouldn't grip.

"Your stopping may have damaged a $1000 camera," I said. The driver laughed. I simplified. "Camera-- VERY EXPENSIVE. Now may not work." He stopped laughing but said, "I stopped to roll up my window." We found this a bit absurd because if he wanted to roll up his window he should have stopped before he got to the kids.

"And Songkran (New Year) isn't for a week!" I added.

He said it (unofficially) started today.

In the evening, Rowshan went to a monastery to take night photos. When he returned he announced that he liked talking to the monks (or probably novices). They told him how they liked American music and gave him facts about the US. They also told him how some of the monasteries have a computer but theirs didn't. However, they were able to use computers at internet cafes for free. They said their head monk was strict and didn't want them watching TV.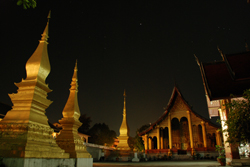 Wat Sensookharam at night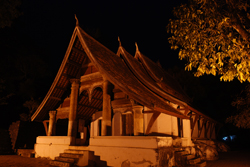 Wat Pha Phuttabaht at night