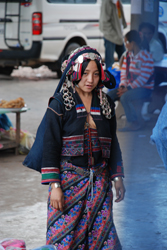 Akha girl at the bus station
We got to the bus station 1.5 hours early and were surprised to see the bus was quickly filling up. We thought we'd just buy the tixkets and find an internet place but instead, R bought tickets while I claimed a couple of the few remaining seats. Then we just hung out. The bus was filled so there were 5 people in the 4 back seats and several more sitting on stools stuck in the aisle. Later I learned from the English guys we met in Nong Khiaw (who we later met again in Luang Namtha), that this was nothing. When they took the 3:00PM bus from Udomxai, there were 40+ people crammed onto a bus with seats for 19. Their bus broke down in Natuey, about 40 km from Namtha.
At the bus station, we noticed a woman in a beautiful headdress and traditional jacket (though she wore leggings and a print skirt underneath.) The headdress was decorated with coins, so I think that means she was from the Akha tribe. I thought she looked like a lost princess. The bus left a little after 11.
The road wound through the hills. The highlight of the trip was a snack stop by the roadside produce market. Women had piles of cucumbers, bamboo shoots, mushrooms, which they poured into packets made from banana leaves, tamarinds, and other foods-- perhaps plants found in the forest. Some of the women wore beautiful black fabric scarves with colorful embroidery. Many wore hand woven sinh (skirts)-- an increasingly rare sight with the availability of cheap printed materials.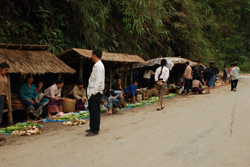 Roadside market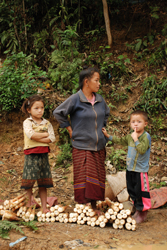 Selling bamboo shoots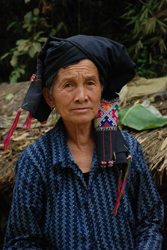 One of the women at the market
The passengers poured out of the bus, returning with their purchases, munching on cucumbers. As the bus was about to pull away, Rowshan made a last minute purchase, beckoning a woman to pass cucumbers to us through the bus window.

The young man sitting next to Rowshan took Rowshan's questions about cucumber prices as an invitation to speak. He had said a few words at the bus station but then the bus left and he was quiet. I think he really wanted to speak but was shy. It turns out he had been studying English at home at night using a dictionary and practicing reading and writing. (I think he'd had some English classes for a year or so at school as well). Soon he and Rowshan were chatting. He spoke English fairly well for someone just studying on their own, using a lantern at night since they had no electricity. His name was Puma, was 22 and lived in Ban Na Tuey, a village about 40 km from Namtha. He was a farmer and had a wife and a 1 year old daughter. He looked a lot younger. In his village there were also Thai Lao, and Lanten (I think). Rowshan asked if he could recognize a Khmu person by face-- clarifying by asking if the guys in front of us where Khmu. Puma laughed and said, "Yes, I can... black and beautifull". As often happens in these kind of bus conversations-- it started to late and ended too early since soon we arrived in Ban Na Tuey and our new friend had to leave.

Soon we came to Luang Namtha. A new bus stop about 10km out of town had been built so we had to take a tuk-tuk to the center, which was incredibly hard to recognize as the center of a town. Luang Namtha is either a tiny town or a large village. The main street had a small market and several hotels and a couple restaurants. The other main business in town was trekking agencies. I noticed they all had boards posted listing tours but didn't notice anyone signed up for any.

At the market we ran into John, the bird watcher and his friends. They confirmed that the weather had been rainy since they arrived (They left for Namtha the day we left for Muang Ngoi). They had been to many trekking agencies and found them expensive and with no other people signed up. They also reported Muang Sing was miserable and they stayed at the worst guesthouse of their trip and fled the next morning. (with the few other tourists who had the misjudgement to go there.)

Having nothing else to do, we went back to the hotel. The people in the neighboring rooms were noisy and didn't understand (or didn't want to understand) Rowshan's request for them to be quiet. Outside, some people were gathering playing a guitar and singing (Why are they always in front of where we are staying?) We heard some drunk farang join them. It was midnight. We were tired and it didn't look like sleep would be easy.

Trekking didn't look like it would be a pleasant experience with the weather and the cost. So, we decided to go on to Thailand the next day.