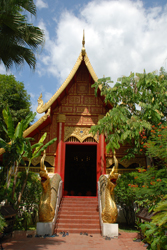 One of the temples at Wat Phra Kaew
The city seems to be reverting back to normal. Shops are open and I haven't seen a single water throwing individual. There were something like 375 deaths and more than 4000 injuries/accidents during the 3 day festival period. Not surprisingly Chiang Rai province had the most. Most fatalities involved alcohol and most accidents involved motorcycles and/or speeding. The article didn't say how many were from motorcycle drivers getting a bucket of water in their face.
We finally visited Wat Phra Kaew. The wat occupies tree shaded grounds. It was once known as the Bamboo Forest from its gardens of bamboo trees. The wind rustled the leaves of the bamboo and gently rang wind chimes hanging from building eves. In a beautiful dark wooden building, decorated with gold trim, was a museum containing Buddhas and other religious items as well as some info about the various abbots of the monastery.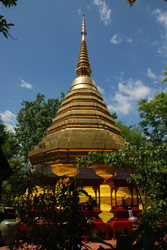 Stupa at Wat Phra Kaew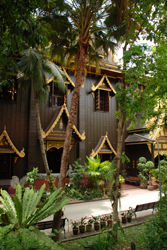 Museum at Wat Phra Kaew
Another piece made me think of a merry-go-round creature since it was a small wooden sculpture on a pole. It was called a "Phya Luang" which is a Lanna deity which is similar to the Naga (Phya Naak). It looks like a winged dragon with an elephant's trunk and horse legs. It symbolizes male strength and power. It is believed "Luang" is from "leng" which means dragon.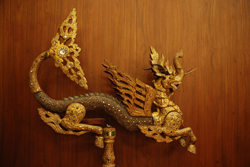 Phya Luang
After the museum, we visited the jade Buddha which replaced the "emerald" one which is now in Bangkok. The sun had heated the stairs to the pagoda and I burnt my bare feet going in. The Buddha was dressed in gold metal clothing. There were paintings on the walls of various events including some about the creation and presentation of this jade Buddha.

I found the travels of the emerald Buddha interesting since we'd visited the Phra Kaew wat in Vientiane as well. The legend says (recorded by Phra Bhrohm Rajpanya, a scholar monk in Chiang Mai, told in "Tamnan") The image was created by Phra Nagasaenthora from sacred jade sent from the God Indra and brought by angels. It was sculpted in 234 BC. It resided in the city of Patalibutra (now Ratpatana) in India. From there it went to Sri Lanka, Kampucha, Inthapat (Angkor Wat), Krung Sri Ayudhaya, Lawo (Lopburi), Vajiraprakarn (Khampaeng Phet), Wat Phra Kaew Chiang Rai (1391-1436- 45 years, Lampang (1436-1468 32 years), Chiang Mai (1468-1553 83 years, Laos 1553-1778 225 years), Bangkok 1778-present).

In 1390 AD King Mahabhrom took the image from Khampaeng Phet and hid it behind stucco inside the pagoda of wat Pa Yiah (Bamboo Garden), Chiang Rai. Lightning struck and revealed the treasure. It seems covering Buddhas in stucco and having them accidentally be "damaged" revealing a treasure in side is a common occurrance. The same thing happened to the Gold Buddha in Bangkok.

After visiting the Buddha we watched turtles basking in the sun in pools next to the pagoda, necks outstretched. Catfish would sometimes lift their whiskered heads above the murky waters.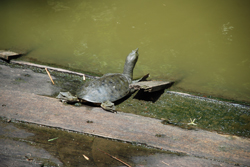 Turtle sunning
In the evening we went to the Saturday evening market which was happily water fight free. We ate at the food street choosing grilled rice balls over cricket salad. The cricket vendors had huge crates full of crickets. I guess if you do eat crickets at least you know they are fresh. We stopped for a bit to listen to a children's music group. They played bamboo instruments in the manner of a hand bell group... each child playing a particular note.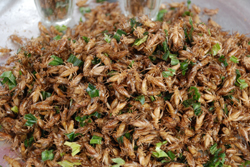 Cricket salad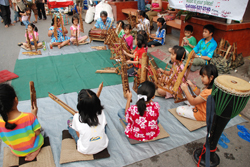 Young musicians
Young musicians