Moalboal sunset panorama
The bus ride to Moalboal took us along white beaches with turquoise crystaline waters, up over the rainy green inland mountains, and back down to the coast.
We are in a nice resort with a fancy cottage with flat screen TV, DVD player, fridge, coffee maker. Kelleen's been diving every day. Rowshan also went once. The water has been beautifully smooth the past couple days so we've done a bit of snorkeling. Its an easy swim to the reef where a little below us are gardens of corals, blue, green, peach and yellow with schools of tiny fish in the brances like honeybees.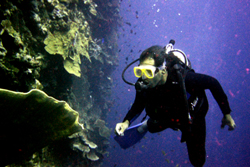 Rowshan checking out some shelf coral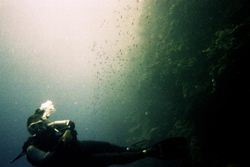 Kelleen striking a seal pose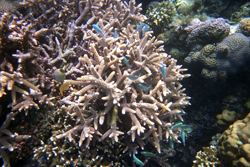 Fish around coral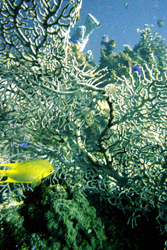 Beautiful coral gardens
Lots of fish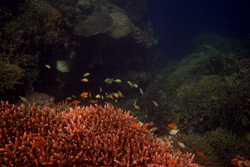 Fish swimming around some coral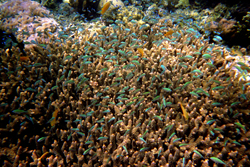 More fish and coral
I haven't been able to do much because I still tire easily. The first day Rowshan and I went snorkeling, I had to return early because it was a little rough and I was getting tired. To make matters worse, I ran into an angry nesting fish (triggerfish maybe), who bit my finger, making a little gash. This is the second time in my life I have been bitten by a fish.

As we get closer to the day of our flight I am more confused about what my future holds and what I should do. Of course, now I'm tired so it is hard to plan.

Rowshan and I found a cafe which has good coffee from Negros (the island across from Visayas). There we were approached by 3 little girls selling necklaces. They said they spent 8 hours a day walking up and down the beach selling jewelry. One wanted to be a nurse, one a teacher, one a dentist.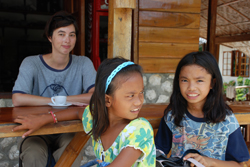 Tamia and some jewelry sellers
The other night Rowshan was walking on the beach and stopped to talk to a group of guys bar-b-cueing fresh sealife on a fire made from coconut husks. He sampled sea urchin and their coconut wine and had a nice talk with them. They were happy he talked to them and mentioned how they want to talk to tourists but the tourists don't ever talk to them. Rowshan has also managed to take some good lightning photos of storms in the distance.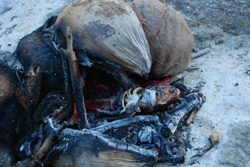 Beach bar-b-cue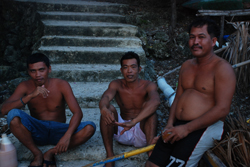 Rowshan joins some locals at their bar-b-cue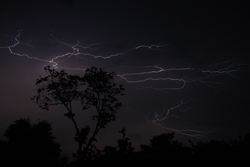 Lightning storm
Kelleen, was talking to a tourist who complained about how the locals seemed to look down on the tourists. It is interesting how much misunderstanding goes on between tourist and local, and perhaps a lot is because they don't talk to each other (except for conducting business). One of the great things about the Philippines is how many people speak English so it is easy for foreigners to have conversations that go beyond "How much is this?" On the other hand, I have to admit, if I was a local and saw the sex tourists wandering around, it would be easy for me to hate all tourists because of the few disgusting men with their underage Filipino girls.

The town of Moalboal is small, just a few buildings and a market lining the highway. Rowshan and I go into town to avoid paying resort prices for food. On the way we pass a yard where it seems there is always a group practicing marching dances for a parade. The beach area is fairly quiet, where we are, even though there are some rooster farms not very far off.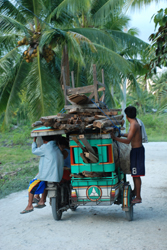 A loaded tricycle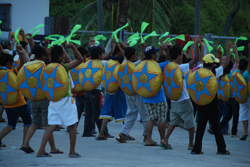 Practicing for a parade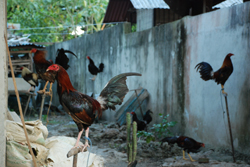 Rooster garden