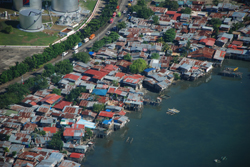 Houses built along the water in Manila
The non-US part of our RTW trip ended with a tortuous day in the Manila International Terminal because they do not have a place to store luggage. They don't really have much of a place for anything. Rowshan had to go into town to pick up our computer which he'd left at a repair shop. Kelleen and I eventually scored some chairs and sat watching the bags and the exciting (by comparison) flip of the flights, times, and destinations on the departures board.
When Rowshan returned, the security people wouldn't allow him back in the terminal because he didn't have a ticket. He had me paged and I brought the iPod which had a jpg of our e-ticket number, itinerary, etc. and they grudgingly allowed him inside.
When we got past the second security checkpoint into the gate area, we spent our last pesos on some drinks only to find there was another security checkpoint for our flight. We chugged our drinks, noticing they had already managed to acquire quite a collection of unopened food and drinks.
While consuming our drinks, we took a last look at the souvenirs and I seriously considered the frog bags because they are so cute yet so disgusting. I'd love to see the face of the grocery store checkout person when I pulled out my frog change purse and made it regurgitate some money. However, in the end, I decided to spare a frog's life.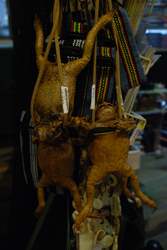 Frog bags, the souvenir we didn't buy
My mother met us at the Kona airport in Hawaii. I was surprised to see she did not greet us with flower leis as is the custom in Hawaii. She was quick to inform us, as my dad pulled up in the truck, that they had brought us pizza instead.