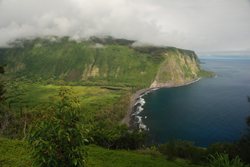 View of Waipio Valley
It is easy to get a fantastic view of Waipio Valley-- drive, park and walk to the observation park. From there you can look across to the steep cliffs and down to the black sand beach with white surf crawling into the shore, the forests, the fields, marsh, river, and fish pools that cover the valley floor.
The road into the valley is so steep only 4wd vehicles can make it in and out. We, and many others, walk. Once in the valley, we followed a road towards the back. The valley is filled with thick jungle smells: decay of plants, guavas fermenting where they have fallen, warm greenery, and hypnotic flower scents (jasmine?). Flowers languidly droop like pouty red or pink lips against an infinity of flamboyant leaves: junk sails, huge fans, giant hearts or the wild hair of a muppet.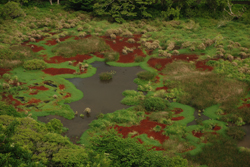 View of Waipio Valley
Hidden from view the birds whistle and chirp in an invisible chorus. In the distance, a waterfall cuts through a cliff, its top dissapearing into mist.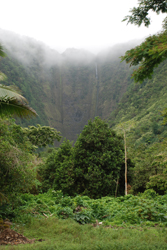 Clouds begin to hide the waterfall
The houses are adorned with Keep Out signs. I guess it makes sense that someone who would choose to live in a valley only accessible by 4WD probably doesn't care much for company. It is an isolated point, but perhaps not as much as it used to be, on an island in the middle of the Pacific.

We came to a point where the river was over the road enough we'd have to take off our shoes and wade. There were a bunch of signs warning of private property so we turned back and walked to the beach. On the way we passed the skeletons of cars, disintegrating into piles of rusted metal by the side of the road. Perhaps these were the cars that got in but couldn't get out.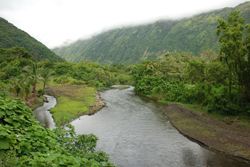 River in the valley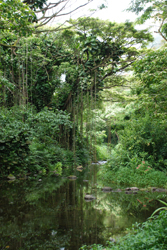 Section of river
The beach is in front of an old Hawaiian burial site. It is believed the entrance to the underworld was located in the valley. No one seems bothered by the morbidity of the area, although this is easily forgotten looking at the green cliffs and a waterfall diving into the ocean. We forded the river and walked along the other side of the beach. After a picnic lunch, we headed back for the steep walk up the hill. It isn't very far, it is just steep. The day was warming up so we were both dripping with sweat by the time we emerged from the top.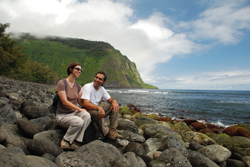 On the beach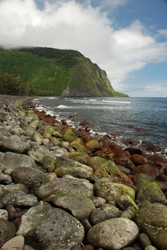 View of beach and cliffs